It's 22 years since Frank Sinatra sidled off to be reunited with Dean and Sammy at that great jazz lounge in the sky, so here's no better time to cast our eyes back at his best films and marvel at how his secondary career won him an Oscar and two Golden Globes.

FROM HERE TO ETERNITY (1953) – It's hard to talk about From Here To Eternity without first talking about another film that Frank wasn't even in. It's no secret that both Francis Ford Coppola's opus, The Godfather, featured a thinly veiled version of Ol' Blue Eyes, but what emerged from it is a prevalent misconception that Frank's big break in cinema came from the unholy trinity of a Hollywood producer, the mob and a horse's head. It's no exaggeration that Sinatra had to do a bit of convincing to get the role of Maggio in Frank Zimmerman's film – especially as his career was very much in the doldrums – but he took exception to the idea that it involved any kind of intimidation. If he'd stank up the film, then you could understand the rumour, but Frank is exceptional, reviving his career and winning an Oscar in one fell swoop. (Watch it on CHILI here)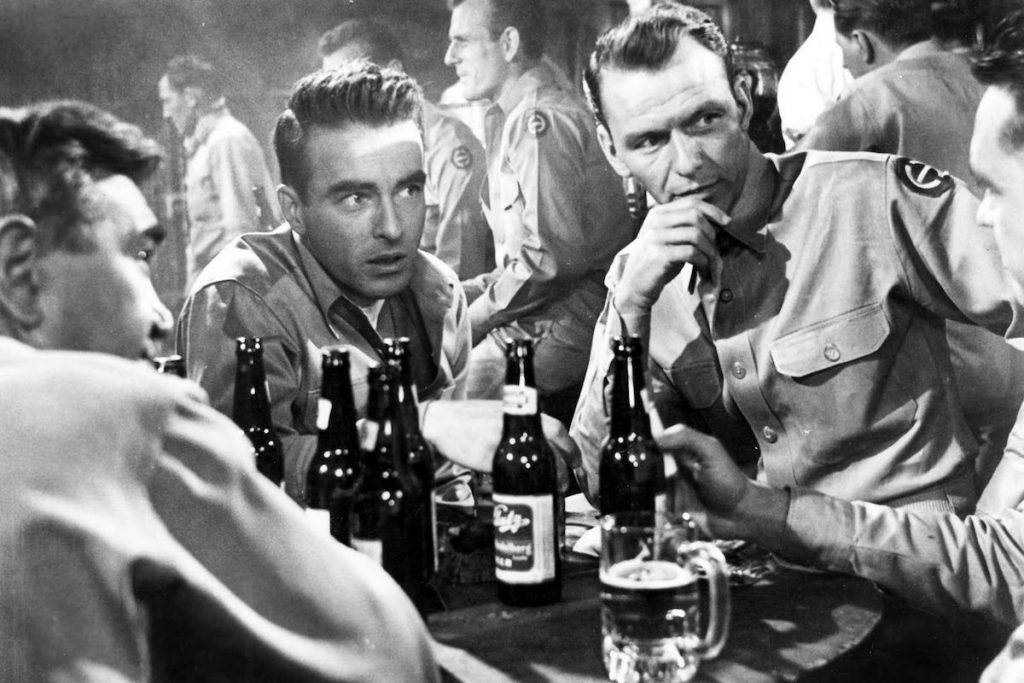 THE MANCHURIAN CANDIDATE (1962) – A strange cloud hangs over the film that runs From Here To Eternity close for the top spot. The Manchurian Candidate tells the story of an American soldier, kidnapped by the Chinese during the Korean War and brainwashed to become a sleeper agent and ordered to kill a presidential candidate two years later. In the wake of President Kennedy's assassination in 1963, Frank Sinatra was beset by guilt, assuming the film had something to do with Lee Harvey Oswald's actions. He bought the rights to the film and imposed his own ban on it being released between 1964 and 1988. Later, he admitted to considering it his finest achievement in acting. He wasn't wrong. It's a film that has retained all of its power and still feels incredible relevant 56 years after its initial release.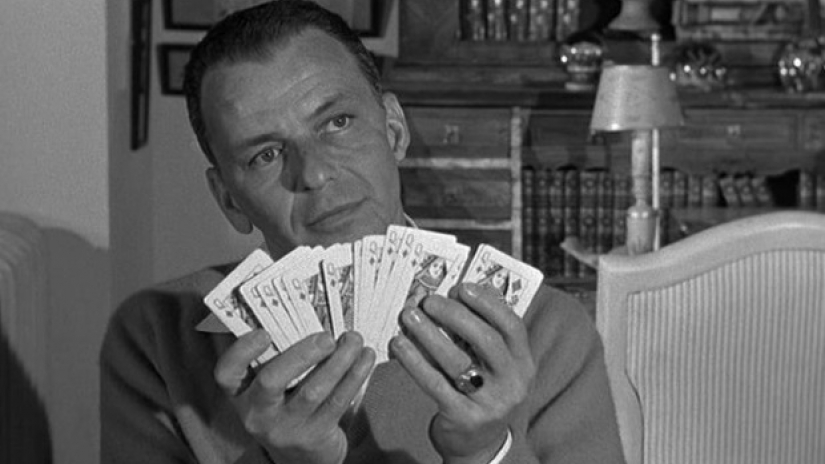 THE MAN WITH THE GOLDEN ARM (1955) – It was no small feat for Frank to supress his boundless charisma and wicked glint in order to convincingly play Frankie Machine, a 'reformed' drug addict, card dealer and aspiring drummer whose life is collapsing under the weight of negative influence. The film might seem tame today, especially when compared with harder-hitting examinations of addiction, such as The Panic In Needle Park or Drugstore Cowboy, but it was ground-breaking at the time and Sinatra's Oscar-nominated performance (particularly in his audition scene for a drumming gig) is still effortlessly convincing.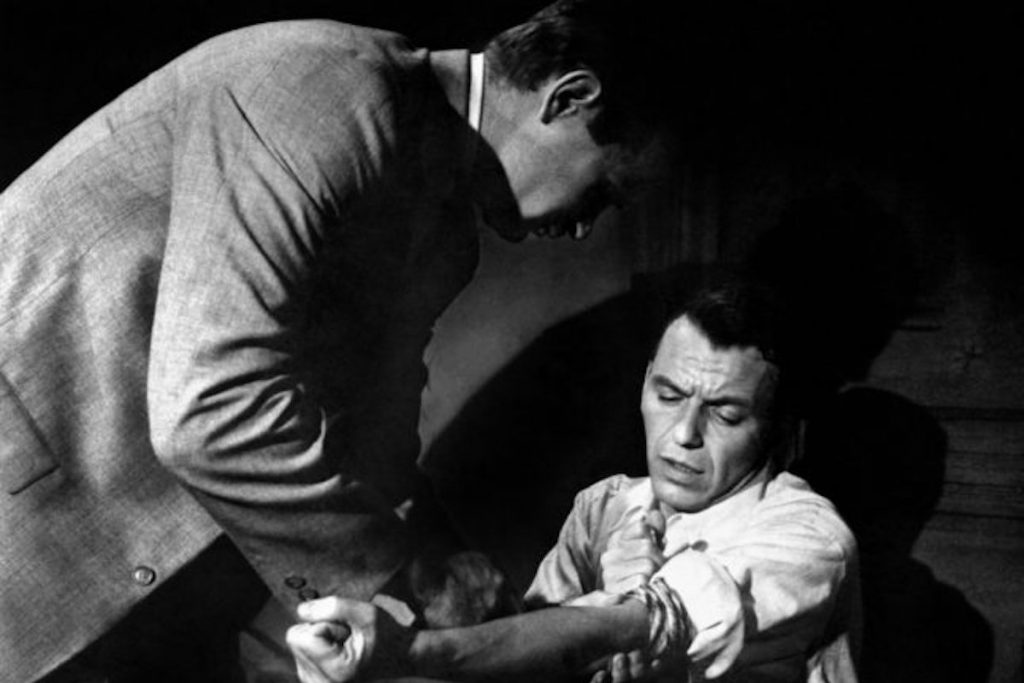 GUYS AND DOLLS (1955) – After a bad start to the '50s, things went into overdrive for Sinatra in '55. Guys And Dolls pairs the great crooner with the smouldering intensity of Marlon Brando, an odd couple if ever there was one, but it works. Frank Sinatra plays Nathan Detroit, a hustler who is trying to make his dreams a reality via a wager with Brando's legendary gambler Sky Masterson. Sinatra famously wanted to play Masterson, and it's hard not to imagine what could have been if the roles were reversed.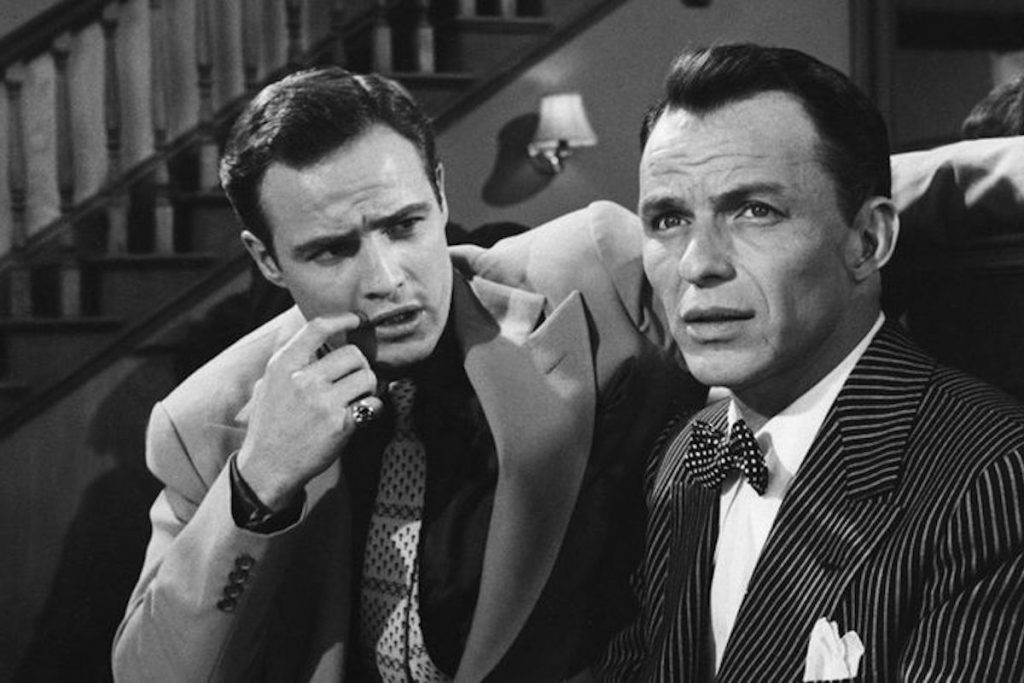 HIGH SOCIETY (1956) – High Society is probably better known for the superb Louis Armstrong calypso that opens the film or for being Grace Kelly's last role before choosing proper royalty over Hollywood royalty, but it's an absolute joy for Frank Sinatra fans, teaming him up with another legendary crooner in Bing Crosby. It lacks the humour of its source material, The Philadelphia Story ­– which one-ups Crosby/Kelly/Sinatra with Stewart/Hepburn/Grant – but makes up for it with the sensational Crosby and Sinatra duet 'Well, Did You Evah'. Controversial opinion alert: the song is irrefutable proof that Sinatra was a far more interesting singer. (You can stream it here on CHILI)