NW YORK – Four months after the final season of Unbreakable Kimmy Schmidt aired on Netflix, the network announced its fictional New Yorkers will return to the studio for an all-new special set to air next year. This time around, you'll be in control of Kimberlake's fate. The special will be the second interactive project to hit Netflix following its Black Mirror: Bandersnatch episode, letting fans control their favorite characters' actions and arrive upon a variety of different endings. Unbreakable Kimmy Schmidt was one of the first original comedy series on Netflix, airing for four seasons on Netflix and wrapping in January, and now it will be its first interactive comedy event. Chatter among the cast pointed to a possible film project to follow the finale, though, at the time, it had not been confirmed. This interactive special, Fey said, is "a great way to officially complete the series."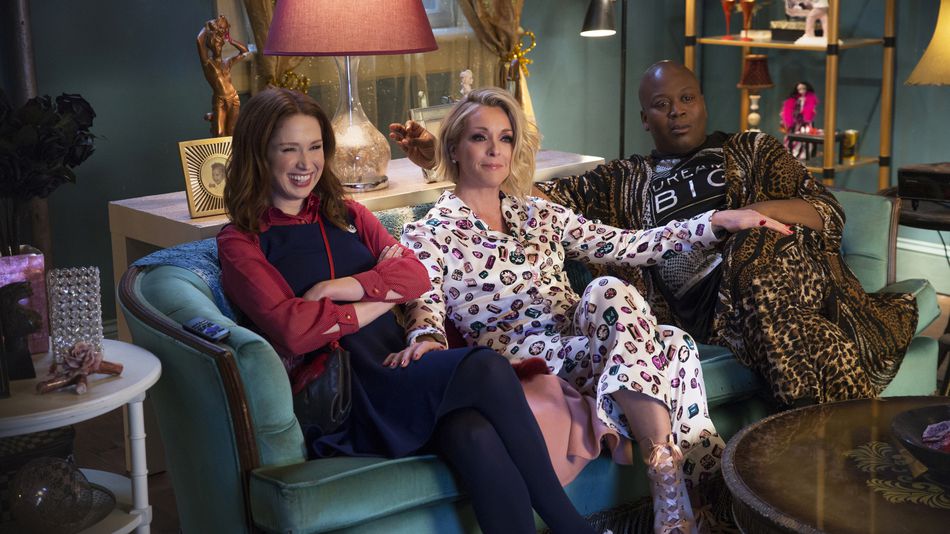 The series finale seemingly wrapped things up perfectly for our East Dogmouth residents: Tituss got his big break, Kimmy is a published and successful author, Jacqueline is a believable agent and Lillian is still fighting gentrification. However, Carol Kane who plays Lillian said in a previous interview that the ending was more accurately "the beginning of a new life" for the group. Ellie Kemper (Kimmy), Tituss Burgess (Titus), Jane Krakowski (Jacqueline) and Carol Kane (Lillian) are all set to reprise their roles and for the occasion gathered together to discuss the show in NYC during a panel moderated by the Reverend himself, Jon Hamm.
How did you become aware of this show and get attracted to it?
Ellie: I think we all had the same reaction – Tina Fey and Robert Carlock created the show, so it could be about a table and we would have jumped at the chance. I think that was the main reason. Then when Tina and Robert talked to me about the idea, I did think they were pranking me because the premise of the show was so crazy and it was supposed to be on NBC so it was pretty unlikely as a sitcom for that network . The good thing is that these geniuses were able to turn such a dark premise into a comedy and that to me is mysterious and magical.
Tituss: I worked with Tina on 30 Rock, then it was over and I didn't have a job. I really thought of being pranked when I read the breakdown saying 'seeking the role of Titus, an out-of-work theatre actor living in a Harlem basement apartment'. All of those things were true and I never even talked to Tina about that so how could she know about those things? I read the premise and thought it was dark but I needed a job so I submitted. Two weeks went by and I didn't hear anything so I thought I didn't get it. I was listening to Pharrell's Happy on a loop and I ordered pizza and when it go to my place and had it in my hand my manager called me and the whole pizza fell upside down on the floor. However, instead of finishing the phone call, I hung up and ordered another pizza.
Jane: I got an email from Tina a little while after 30th Rock ended saying "I think I have a new part for you on my new show. Would you let me know if you get any other job?" After that I didn't hear from her for a very long time and then I did get another job but I wanted to do her show so I wrote to her "I think I got this other job but I'd really rather do your show" and she replied "It's not ready yet so you should take the other job." I never felt so sad about taking another job. I shot that pilot happily and thankfully. Tina's agent, who also represented the writer of the pilot I was doing, kept coming to set and I asked him "How's Tina's new show? Hasn't it been fun!?" Then the show I made didn't get picked up, my email rang and it was Tina, "The part I talked to you about is available, would you come and do my show?" I wrote back "YES!!!" which my agent was mad about because apparently there wasn't negotiating room, and she asked me "Do you want to know what the part is at least?!"
Carol: I've always been in love with Tina and her writing and I didn't know her creative partner Robert Carlock at that time. I've always hoped that somebody would call me to be on 30th Rock, they didn't and then the show wrapped. Miraculously I had a call from my manager saying they wanted to have a meeting with me and I met with Robert and Jeffrey Richmond, our composer, and they were so kind. They asked me to be on the show and I couldn't get over it. I did not even care to ask about my character either because I just wanted to be part of.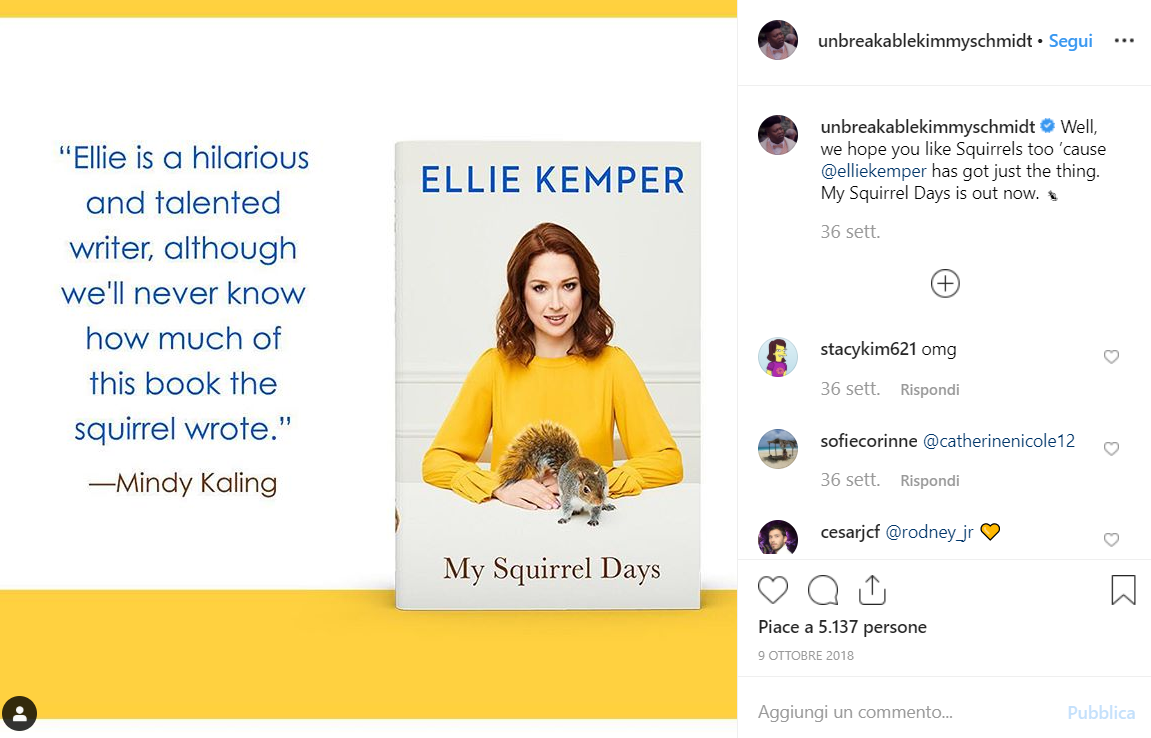 What inspired your character ?
Tituss: Tina said she had a friend who lived in Midtown and dressed up Barbie dolls so the initial character was loosely based on him. And then when I came into the picture, they finessed the character so there're two things happening: who they had and who I knew him to be. Titus is all of my aunts, I have four and they all feel great about life and they shouldn't. They are very funny, irreverent and they hate children but they all have a lot of children so I just imitated them.
Ellie: I think they wrote Kimmy based on all the women to whom this event happened and they were blown away by their strength and resilience. What you see is that most of these ladies are determined to make a go of it and they are not broken by this experience so I know that went into the development of my character.
Carol: It comes from what is on the page but then I had a couple of people rock across my brain as I was shooting it. Sometimes Ruth Gordon would be walking around in there and sometimes the character of Norton from "The Honeymooners", sometimes they would be dancing together. They were just in there and I wasn't trying to imitate either of them but they somehow were fuel for me.
What I admire about Lillian is that she's so outspoken and doesn't seem to care what other people think of them, that kind of courage of conviction.
Jane: I'm so thrilled that Tina writes these very hilarious, wrong, unaware women for me to play but I never had the guts to ask her why she thinks I'm the perfect person to play them. And there're some questions you don't want to know the answer and I just say 'thank you.' I know a bunch of these women especially in New York but I would say my first scene that I have in the show was so perfectly comedically written that I knew everything about this woman by that one speech [when she interviews Kimmy]. There were so many clear clues of who this lady was in the beginning cause she changed quite a bit as the series went on. I know many people think that Jenna [her character from "30 Rock"] and Jacqueline are quite similar and I think there are similarities. Jenna was a psychopath and had no bearing of reality but I loved her more than anything whereas Jacqueline is a bit more grounded. She tried very hard to make the life she has and she was just disappointed with it but I've always had so much more sympathy for Jacqueline. I've sometimes related to her and I feel a little cheated when people think she's like Jenna because I think the cadence of the comedy is the same as the timing of the writing but there's so much greater depth for Jacqueline.
All of these characters are wacky misfits and that's what makes it all work. The cleaver goal is that we all were in our own bunker that gets reveals as the seasons go on. Each of us was so alone in some way until we were together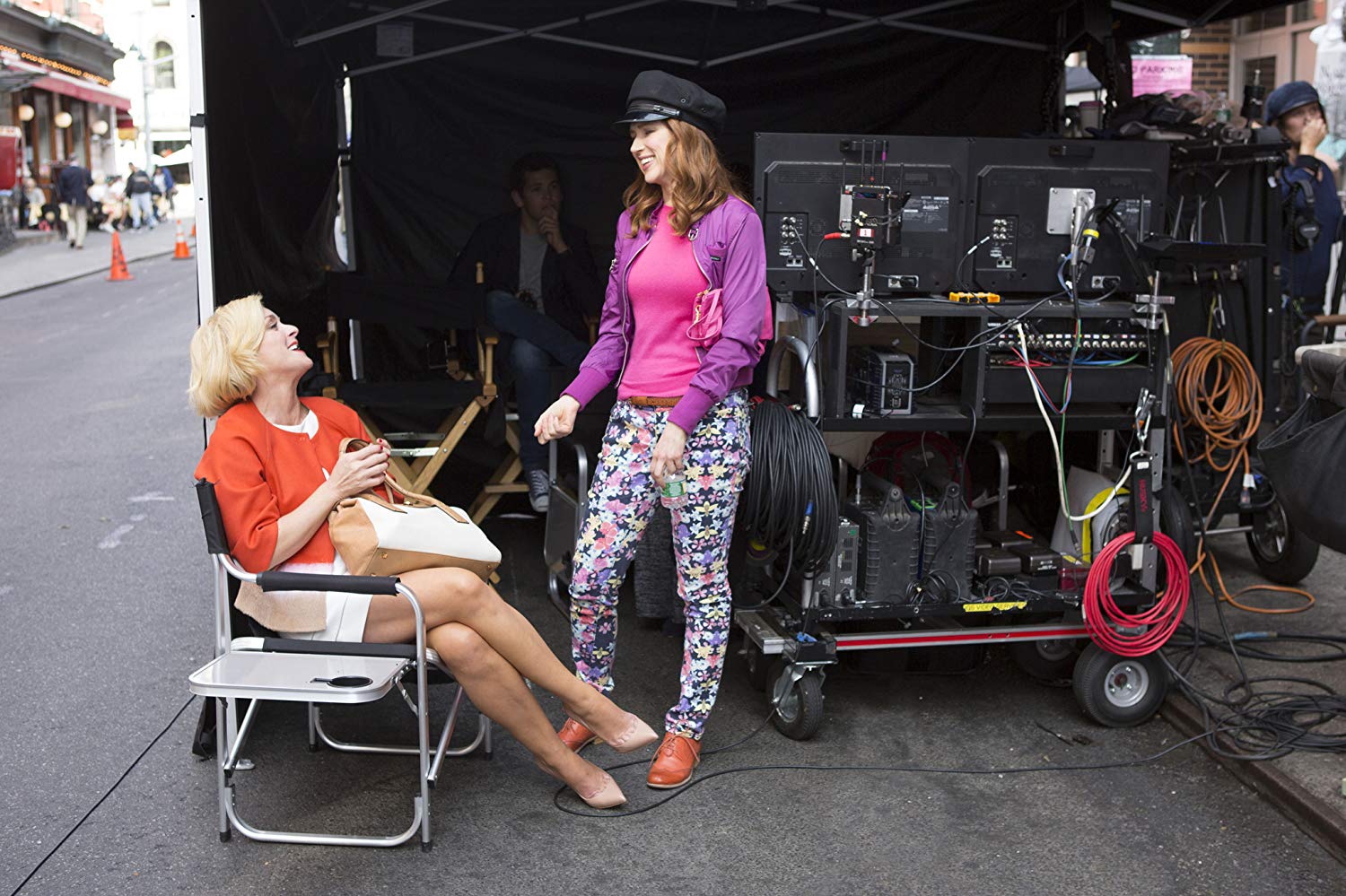 Have you ever read a script and thought how to pull it off?
Tituss: I don't get most of the jokes.
Carol: Me neither. You say a line, you get a laugh at the table read and you think 'What?!'. I have no idea what I'm saying whatsoever. Sometimes I ask the writers to explain them and I almost always regret it because it seems to me like it's better to just say it and pray for rain.
Ellie: We all read the joke and I don't get it, we film it and I still don't get it, then going home that night I'm like 'Oh now I get it.' These people are ridiculous, the layers of jokes are incredible. In our defense Tina said some of the jokes are very specific to three people in the world.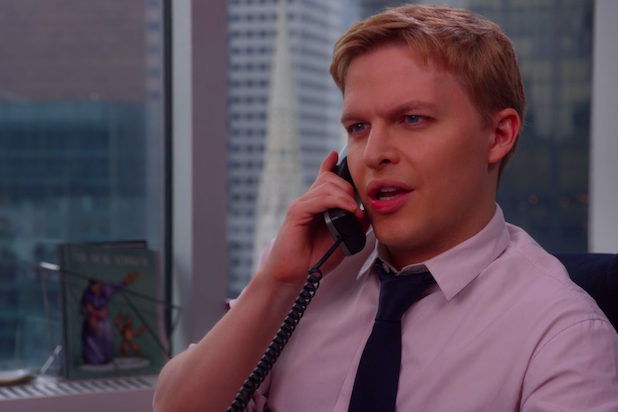 You've had so many amazing guest stars on the show especially this final season. What's it like to work with them?
Jane: I couldn't believe Ronan Farrow came. It was written in the script and we all thought he was never going to come. He was in the thick of all that drama in reality at that time, then we were asking him to do it about a puppet. It seemed a hard ask.
Tituss: One time I got almost angry at Tina. I showed up to set and I never know people's schedules because the casting can change. I'm a huge theatre geek and 'Into the Woods' is our favorite to sing at work and Tina had the audacity to hire Joanna Gleason [who plays the baker's wife in the Broadway musical] and not tell me: on set I went "Oh my God" and I just kept walking, I didn't say hello to her, anything.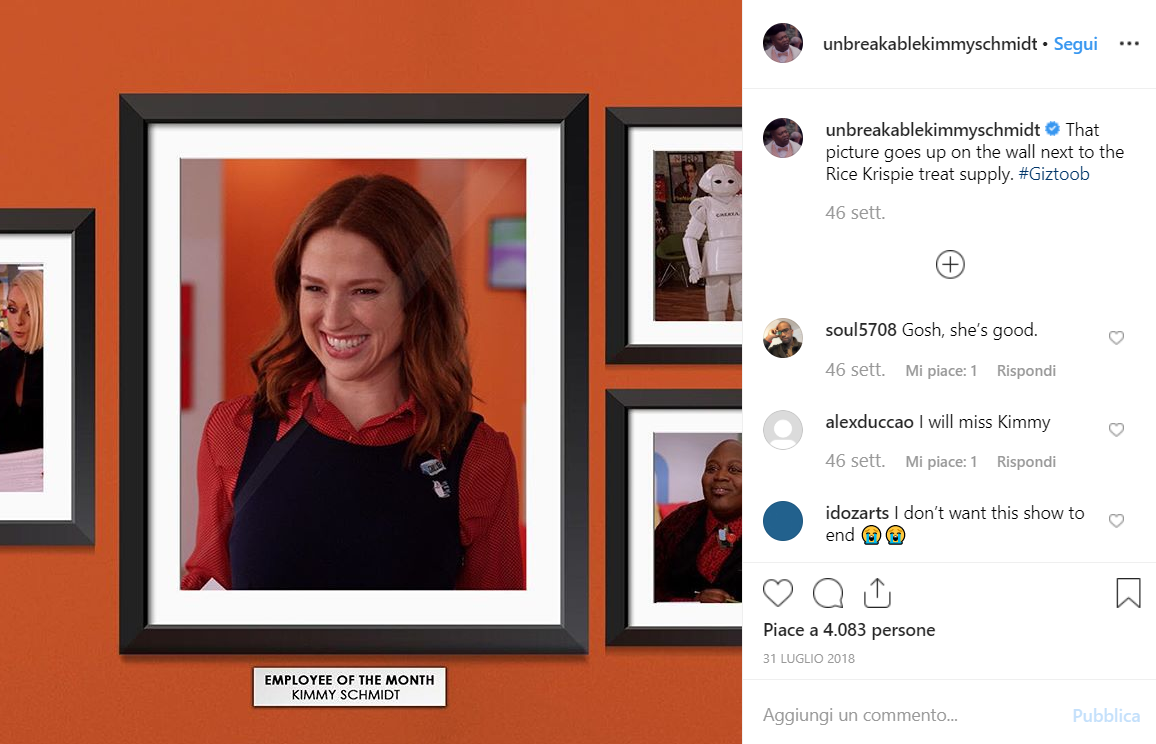 You guys have so much chemistry together. What is the best memory of working with this cast?
Tituss: The entire four seasons. The sight of these women reduced me to childhood fodder and I have had such a beautiful time befriending you and sharing the screen together.
Ellie: I didn't know anyone but I couldn't wait to meet them. We got very lucky cause we like each other a lot. The next job you take will be fine but it won't be the same.
Jane: It isn't the same after you get to work with them. Ellie is the best number one person to see on a call sheet, she's so professional. I loved seeing Tituss blossom and become this breakout star of our show and then being graced with such a legend like Carol Kane.
Carol: I think we love being together and saying these great words cause it was a privilege.