It's the helmet that Peter Fonda wore in the 1969 Easy Rider movie. This film, awarded  in Cannes in 1969, could be considered the archetype among biker movies and represents the ideological symbol of a whole generation: «You know, this used to be a helluva good country. I can't understand what's gone wrong with it…».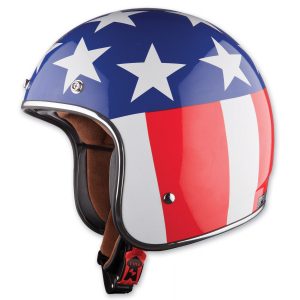 An helmet is usually expensive and if it is as much as similar as the original the price will range from 80 to 200 dollars.
Harley Davidson bikers have surely dreamed once in their life Peter Fonda helmet in Easy Rider movie. Almost fifty years after the release this movie, by the beloved Dennis Hopper, still remains an iconic biker movie because it fully represents motorcycle riders need of escape and love for freedom. «Hey, man. All we represent to them is somebody who needs a haircut». «Oh, no. What you represent to them is freedom». «What the hell is wrong with freedom? That's what it's all about». «Oh, yeah, that's right. That's what's it's all about, all right. But talkin' about it and bein' it, that's two different things…». Unmissable.