Woody is the sheriff starring with Buzz Lightyear (a space hero toy) in the funny Disney Pixar cartoon Toy Story. Woody is the favourite toy of Andy, he has a special place on his bed and he is the leader of  the toys in the movie.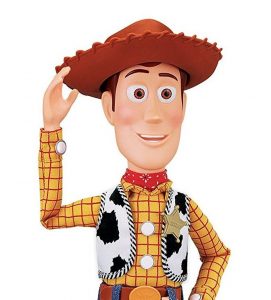 The original Disney doll, that we recommend, costs 43.98$, the not original versions start from 20$.
Because this doll could really be your son's best friend, they will be be inseparable, they will play together  and  enjoy the adventure. Sheriff Woody will look after all his boys like in the movie. «From now on, you must take good care of your toys. Because if you don't we'll find out, Sid. We toys can see everything. So play nice!!…». A perfect gift.