When Indiana Jones first appears on the screen in Riders of the lost Ark and we see his shape in the mist we recognise him from the hat. Harrison Ford without his hat is not Indiana Jones. The costume designer Deborah Nadoolman revealed during an interview that she found this Australian hat at Herbert Johnson's place, a famous hat store in London. A few changes and refinements and the famous Indiana Jones fedora was born. In the different instalments the hat slightly changes but they were all bought at Herbert Johnson's store, that still sell them.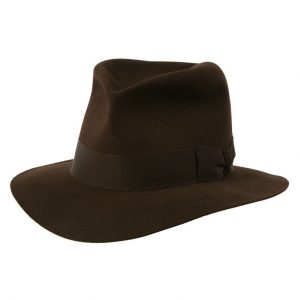 Different colours, different models and different fabrics, starting from 10$ up to 350$ for the original at Herbert Johnson's store.
One of the most popular merchandise in the movie history, timeless and forever cool because Indiana Jones is always Indiana Jones. You should buy it because the next episode in production will surely bring back this trend and every man looks macho with a fedora. Make a present to your boyfriend or your father. They will surely love it.