Fox Searchlight's Tolkien biopic about Birmingham's most famous resident stars not one, but two pairs of great British eyebrows in the lead roles. Nicholas Hoult's career trajectory has taken him from being the odd-looking child in About A Boy to teen heartthrob in Skins, before moving on to the even odder looking Nux in Mad Max: Fury Road and Hank McCoy (alias The Beast) in X-Men: Apocalypse. As J.R.R. Tolkien, both the oddness and the hotness have been toned down with Hoult portraying the literary giant as a young man returning from the horrors of World War I.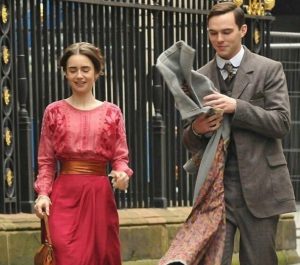 The film focuses on Tolkien's lengthy courtship of Edith Bratt, whom he met at the age of sixteen. In the film, Bratt is played by the owner of that other set of impressive eyebrows: Lily Collins. Perhaps best known for her role as Snow White in Mirror, Mirror, more recently we saw her transform from diminutive to positively skeletal as the anorexic Ellen in To the Bone. Bratt and Tolkien's relationship would be film-worthy even without the latter's fame. Both were orphaned at a young age. The film deals with Tolkien's childhood and schoolboy friendships, with Harry Gilby playing the young Ronald Tolkien.
The couple endured a lengthy separation when Tolkien's guardian, Father Morgan (played by the great Colm Meaney), forbade his ward from seeing Edith, who was three years his senior and a Protestant, until he came of age. Tolkien wrote to Edith on his 21st birthday and asked her to marry him. She caused outrage among her friends both for breaking off her engagement and for converting to Catholicism in order to marry Tolkien, who was still a student and had very little money. However, the greatest impediment to their happiness was the Great War. Tolkien had put off enlisting until after his degree. The couple married in March 1916 and in June he was posted to France. At the Battle of the Somme he came down with trench fever and saw no more action at the front. By the end of the war, Tolkien wrote, "all but one of my close friends were dead."
Although there are some well-known names in the cast, with Derek Jacobi and Pam Ferris also in the line-up, director Dome Karukoski is not exactly a household name, so this Tolkien biopic is something of a mystery. A few stills have been released, but we are still waiting for a trailer to give us a taste of what's in store. However, Karukoski attests to being a "lifelong fan of J.R.R. Tolkien's books" and that it is "a privilege to bring one of the greatest writers in history to life". We look forward to seeing him and his talented cast do this great storyteller's own amazing story justice.