Defending the practice of casting couch in the film industry, veteran choreographer Saroj Khan has said it's done with consent and at least provides livelihood. The 69-year-old, who has choreographed more than 2000 songs in her career, further said the tradition has been going on since centuries and blaming just Bollywood is unfair. «This is going on from baba Adam's times, it is not new. Someone or the other always tries to take an advantage of a girl. The government officilas do it too, then why are we only behind the film industry? It provides livelihood at least» she said.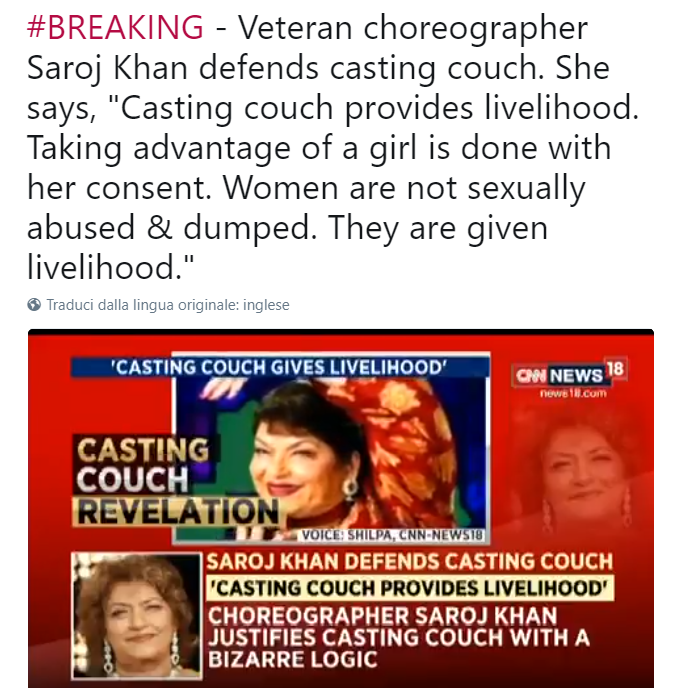 Further putting her view forward, she said as to why would anyone want to sell herself if she is confident about her talent. «Does not rape and leave you. It is up to the girl, what she wants to do. If you don't want to fall into wrong hands, you won't. If you are talented, why would you sell yourself? Don't blame the film industry's name, it is everything to us» she said. Saroj Khan's defence of the casting couch infuriated Twitter as well. «Who gave her the right to speak anything unjust and shameless like this?» read one angry tweet. Another incensed Twitter user tweeted: «What's wrong with this woman, has she lost it completely. How can she defend casting couch! It's akin to defending rape!»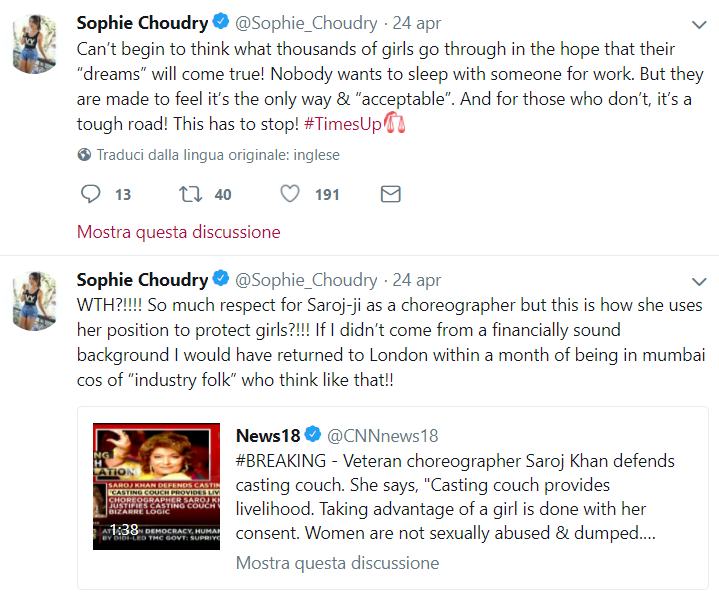 «Can't begin to think what thousands of girls go through in the hope that their dreams will come true! Nobody wants to sleep with someone for work. But they are made to feel it's the only way & acceptable. And for those who don't, it's a tough road! This has to stop! #TimesUp», said actress Sophie Choudry on Twitter. Saroj Khan is a three-time National Award winning choreographer. She choreographed most of Madhuri Dixit's hit numbers (Ek Do Teen, Dhak Dhak Karne Laga, Choli ke Peeche and Tamma Tamma Loge) in the Nineties. She has also worked with Rani Mukerji, Aamir Khan, Kajol, Aishwarya Rai Bachchan and Raveena Tandon among others.