It's hard to believe that Grease has reached the ripe old age of 40. Though there are elements that age it – most notably, its lack of black characters – it remains an evergreen classic (my gym teacher regularly plays 'Summer Nights' in her workout class). The film even spawned a slew of high-school spin-offs and coming-of-age movies that remain hardy perennials themselves. Though it was made in 1978, the film is set 20 years earlier at Rydell High. In a classic boy-meets-girl story, local lad Danny (John Travolta) and Australian Sandy (Olivia Newton-John) have a holiday romance, only to meet up again at school when Sandy's dad gets transferred.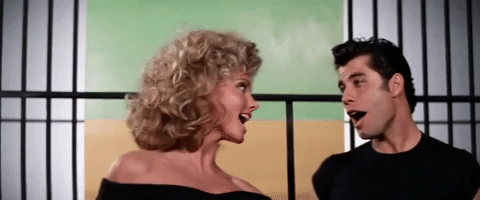 Danny is part of a gang, embroiled with bad girl Rizzo (Stockard Channing) and obsessed with winning a car race against a rival gang. Sandy is saccharine sweet and it's no coincidence her name recalls Sandra Dee, the 50s girl-next-door actress who is referenced in one of the film's songs. Inevitably, everyone gets paired off happily in the end, with Sandy acknowledging her naughty side and Danny realising he needs to sort his life out.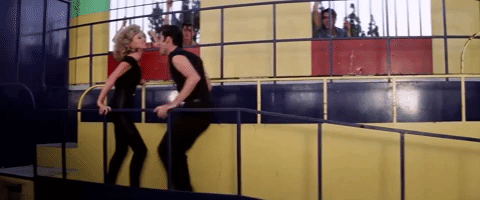 Their final duet remains a great musical moment: filmed at a travelling carnival that was in LA for the day, 'You're The One That I Want' went on to become one of the best-selling singles of all time. On the big screen, Grease provided the inspiration for singing and dancing high school kids for decades to come. Dirty Dancing's leads have more than a little in common with Sandy and Danny, particularly in how they are dressed in their famous final dance scene.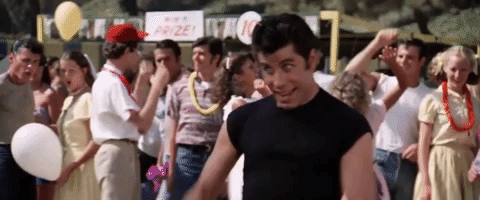 There are also echoes in John Waters' Hairspray – which turns 30 this year – in which black characters are given a prominent place in a film dealing with integration. The 2006 remake starred Travolta, Michelle Pfeiffer (who starred in Grease 2) and Zac Efron, who made his name in yet another Grease progeny: High School Musical and its two sequels. In fact, High School Musical owes much to Grease. The two leads Troy (Efron) and Gabriella (Vanessa Hudgens) meet on holiday. When basketball whizz kid Troy heads back to school he discovers that science geek Gabriella has enrolled at East High, with misunderstandings and break-ups pockmarking the road to the inevitable happy ending. Even the final song, 'We're All in This Together', mirrors Grease's finale, 'We Go Together'.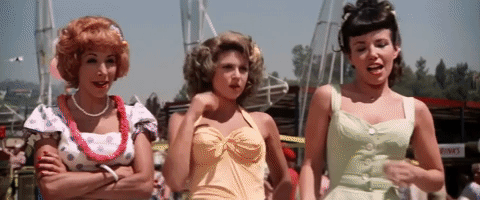 However, High School Musical is a far more innocent affair; the kids at East High are much more chaste than their 50s counterparts and certainly don't look like 30-year-olds. The alumni of Rydell High averaged around 28 on graduation, with Stockard Channing coming in at a decrepit 33 when she starred. Like its mature cast, Grease is more knowing than its wide-eyed youthful exuberance would have us believe. The film deals with issues such as unwanted pregnancy, exaggerated boasts of sexual prowess (in the song 'Summer Nights') and celebrates female sexuality and independence via the prickly character of Rizzo ('There Are Worse Things I Could Do'). Frankie Avalon's song 'Beauty School Dropout' shows how teen dreams can take a knock, but it also celebrates the resilience of youth.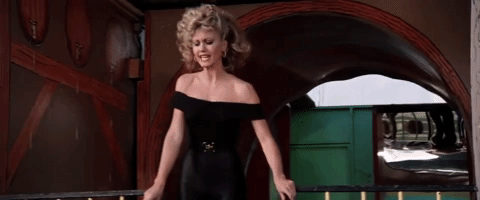 Grease's high-school theme would be taken up again and again over the decades on TV shows, too. Beverly Hills 90210, The O.C. and Glee – Grease's most obvious successor – all took place amidst the angst and aspirations that go with the setting. And, like Grease, few of the actors on these small screen successes were actually kids. Beverly Hills 90210's Luke Perry was 34 by the time he left the show in 2000, while The O.C.'s Ben McKenzie was 25 when he played 16-year-old Ryan Atwood.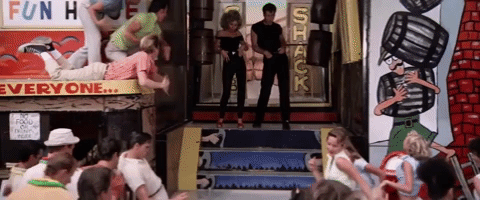 So, is Grease still the word? The film manages to charm most age groups, from the grandparents who remember their 1950s heyday, to the kids who recognise a familiar genre they've grown up with, via the parents who saw it at the cinema in the 1970s. With a soundtrack that still gets people singing along, some great dance scenes, and a talented and charming cast, Grease – like its cast members – may look old, but it's still young at heart. I, for one, am hopelessly devoted.