While his 40 year-old Rocky franchise still burns brightly and with those constant online rumours of the return of John Rambo always being greeted with enthusiasm, Sylvester Stallone remains an omnipresent Hollywood player at the ripe age of 72. But outside of his successes (The Expendables series even appears to be still simmering away) it's easy to overlook the fact that Stallone's resume has been more miss than hit. While the Rocky and Rambo series helped offset disasters like Rhinestone and Over the Top during the eighties, without his beloved characters to fall back onto during the next decade, Stallone was treading shallow water.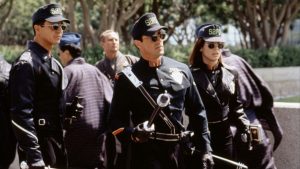 His attempt at gaining some serious acting accolades with 1997's Cop Land was acknowledged, but the rest of the nineties were a decidedly mixed bag. The two films which undoubtedly stand out from the other middling B-movie efforts of that decade are 1993's Cliffhanger and Demolition Man, which arrived a year later. While the former was an action picture in the more traditional mould, Marco Brambilla's nutty dystopian adventure was in some ways a very different take on the straight-faced heroics of Stallone's previous work.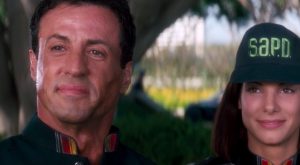 While Demolition Man (which turns 25 this October) still yields to the many action beats associated with the genre, there's a thoughtful, often very humorous satirical undercurrent to the story of a disgraced, cryogenically frozen cop called John Spartan (Stallone) who is defrosted some fifty years later to apprehended a dangerous criminal (Wesley Snipes – having the time of his life) from his era. One of the three screenwriters credited with the film is Daniel Waters, who was behind the 1988 American black comedy Heathers. It isn't difficult to spot his contributions, particularly when the action shifts to the future utopian landscape of old Los Angeles, renamed San Angeles. Waking up there, Spartan is immediately dumbfounded by the passive, subservient society, which has eradicated violence, bad language, red meat and even sexual intercourse, leaving its inhabitants meek shells of their former selves.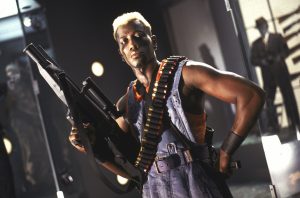 Speaking of shells, the film's funniest gag involves Spartan's attempts at relieving himself in 2032 after being told the traditional toilet paper has been mysteriously substituted by three silver seashells. The film is packed with funny, throwaway moments, and Stallone even gets the opportunity to takes aim at his then rival now BFF Arnold Schwarzenegger when it's inferred within the film that the Austrian oak served as US President during Spartan's time on ice.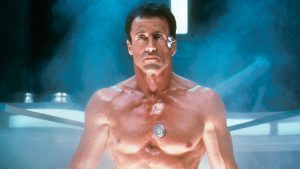 Also featuring a memorable, pre-Speed turn by a young Sandra Bullock as a fellow police office who yearns for a little nineties action and violence (her character's office is even adorned with a huge Lethal Weapon 3 poster) Demolition Man remains a standout offering from that fallow period in Stallone's career. While it might not bother the likes of Die Hard and Point Break in the 'greatest action film ever' stakes, there's still much enjoyed to be had here, and the film's snowflake, nanny state future feels like a particularly relevant commentary on the modern PC culture.
Revisit Demolition Man on CHILI