It's a film we've been hailing since the start of the year, and finally it has made its way to UK cinemas. The Souvenir, which won the top prize at Sundance back in January, wowed us at the Berlinale and it's been a film we've struggled to take off our minds ever since – and now it's your turn. But don't worry this is far from the burden it sounds, it's an honour.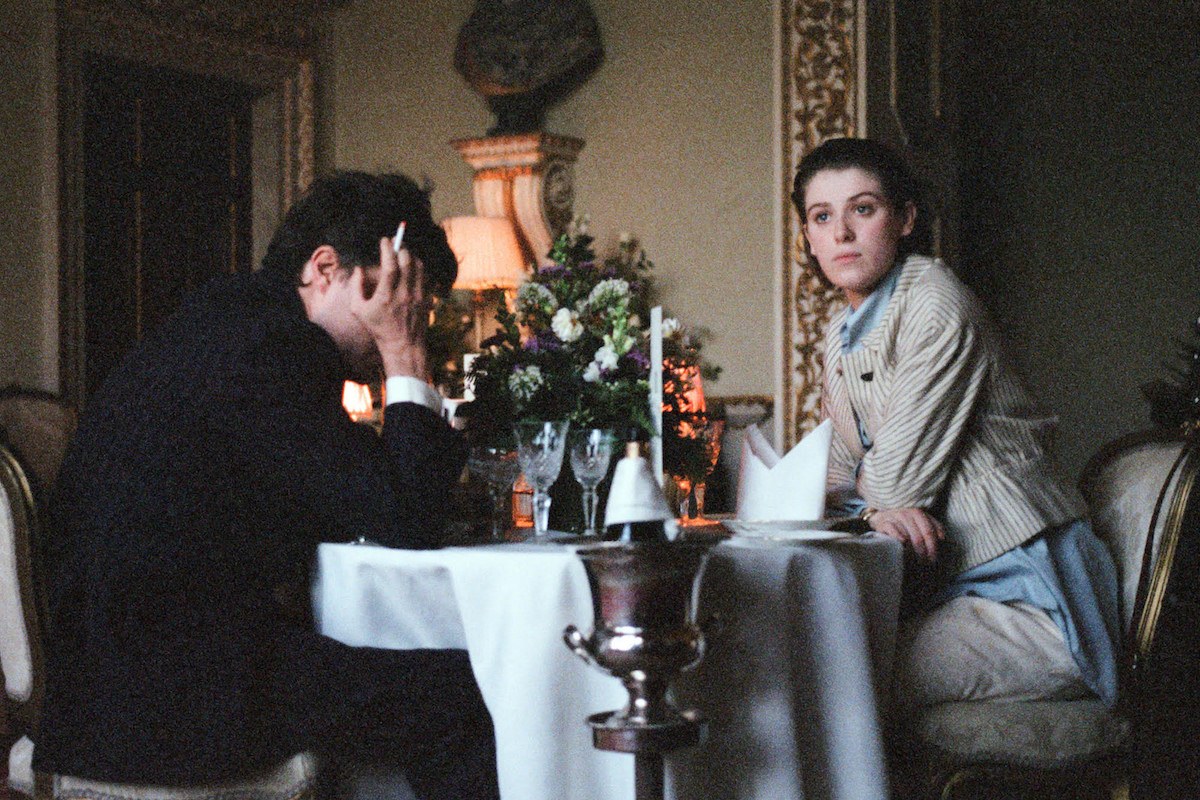 Talking of honours, the lead role in Joanna Hogg's autobiographical piece belongs to newcomer – and daughter of Tilda Swinton – Honor Swinton Byrne. She plays Julie, a young budding filmmaker growing up in Thatcher's Britain. She comes from an affluent background, which sets her in good stead from a career perspective, but cannot prepare her for the emotional turmoil that derives from her complicated, destructive relationship with Anthony (Tom Burke).
The film excels for many reasons; tonally it's a triumph, the blend of social realism, with light-hearted injections by way of Richard Ayoade ensure the audience remains compelled throughout, and aesthetically it's a gratifying piece. It's hugely emotive, it's about loss primarily, with hints of nostalgia and addition too plays a big part. Naturally, what transpires is a moving film that features some breathtaking sequences, mostly featuring Burke in a performance worthy of awards. But he's matched by his co-star Byrne, which is striking considering she's so inexperienced, and wasn't even given a script to work with, as everything we see from this talented young actress was improvised.
We could go on for ages, but we have a lot to get through, for The Souvenir marks one of eight noteworthy releases in the cinemas this weekend. Another highlight, for if you've seen The Souvenir and just can't wait to get back into the cinema (it's not like its Summer outside or anything) is The Informer. A unrelenting thriller about an ex-convict working undercover who has to intentionally get incarcerated again in order to infiltrate a gang that will hopefully give him enough evidence to clear his name for good, and allow him to move away with his family and live safely. Oh, if only it was that easy.
Featuring a career-best performance from Joel Kinnaman, he heads up a star-studded ensemble that also includes Rosamund Pike, Clive Owen, Common and a frustratingly underused Ana de Armas. There's a point about a third of the way in when this film holds an incredible amount of promise; the set-up is masterfully put together, the premise so enticing, and all the different characters that circulate around this complex narrative each have their part to play. Everything is in place. But it just tries a little too much, and we get increasingly convoluted, and too contrived at that, and sadly as we approach the finale, it's all just got a little bit, well, silly.
It's not the only prison-based drama out this weekend, as we've also got The Mustang, featuring Matthias Schoenaerts as an inmate who finds solace – and purpose – when he agrees to join an initiative from inside, where he learn to tame and ride a wild mustang ahead of an upcoming auction. This slow-burning, pensive feature is the perfect fit for the Belgian actor, playing a role that in many ways is similar to that we see in Bullhead. But it's almost too easy for him, the whole internalised, brooding, violent-but- misunderstood characters is one he's played before, and it would be interesting to see him try different things. But that said, it's a role he plays well, it's just a shame in this instance the film is – and for use of a better word – just a little bit boring.
This next one may not be about prison, but for protagonist James Frey – it sure feels like one. That's right the novelist's controversial autobiography is finally being made into a feature film (just don't tell Oprah) and this marks the first collaboration between Sam Taylor-Johnson and husband Aaron, since they met on the set of Nowhere Boy. The latter plays Frey, a writer who has hit rock bottom and thanks to the support of his brother (Charlie Hunnam) he is admitted into a facility to undergo months of detox, hoping to rehabilitate and get off the drugs, for good. It's mostly set in this one environment, and is a raw intimate study of one man's fight to overcome a heavy addiction to narcotics. He's a frustrating character, at times you dislike him, but ultimately you do root for him which is essential to this film working. It's refreshing to see such an unapologetic take on drug addiction, and both Taylor-Johnson and Odessa Young excel in the lead roles – and a special mention too for Billy Bob Thornton, he's as good as he always is.
And now for something completely different – as we welcome in another Asterix movie, this time under the name of The Secret of the Magic Potion. This is a character, and world, that has garnered such a huge following across Europe, though has always struggled to fully make the move into British culture. But that's not to say it hasn't got its fans (yes, I am one) and this film is true to the spirit of the original books and animations so many of us grew up watching. Visually impressive, the downside really is just that it's trying too much with its narrative. Of course with feature length films there's so often an inclination to be bigger, for the stakes to be higher, but in this instance it just feels a little off-brand, perhaps losing sight of the one thing we like most about this franchise: the characters. Asterix himself doesn't have a lot to do, well Obelix suffers from a similar thing. But it's fun, and playful and kids are bound to find something in here to enjoy – but from a nostalgic standpoint, you parents may well be left wanting.
Next up is Scandi-Sci-Fi Aniara, based on a poem by Harry Martinson. Directed by Pella Kagerman and Hugo Lilja, this is an example of a film that proves that you can make films from within this genre on a small budget, and have it work. The premise is simple (which helps) – a spacecraft heading to Mars to help the planet and ensure thousands can relocate safely, gets knocked off its course. The problem is, it may now take years to get to their destination – leaving a whole society of people aboard a ship they'd only anticipated being on for a matter of weeks. It gets almost Lord of the Flies-esque, with a hint of Wall-E really getting into the hypothetical scenario of what would you do in this situation, as watch on as mankind almost starts to eat itself from within (not literally, don't worry). It's a strange film for sure, but the messages and sentiments are intriguing: as we definitely fall into the camp of, well, if we're gonna die, let's have a lot of fun until we do.
Another film out this week, and now sadly we're getting into the more missable of the releases, is Killers Anonymous. The cast is impressive, especially considering the films' stature, as Gary Oldman is on board, as is Jessica Alba. The premise too is fun – like a AA meeting, but instead it's for killers, those who just can't seem to stop bloody murdering people. The producer has said this was born out of an idea that came from a single scene in a previous movie – but really that's where it ought to have stayed, for while the dialogue is slick in parts, and there's a stylistic element to this tale, it struggles to expand into a feature length film with a sustainable narrative. Instead it gets a bit absurd, and most definitely falls into the category of films that simply had no idea how to end, as the final quarter of an hour is just ridiculous – and not in a good way.
And finally, and sadly our least favourite film this week, is Mrs. Lowry and Son, which is surprising given it's a two-hander between the national treasures that are Vanessa Redgrave and Timothy Spall. While the acting, as expected, is impressive, it's just the screenplay that lets this title down, not to mention the whole look and atmosphere to it. It has the feel of a TV movie from the early 90s, and not one of the good ones. Spall may have been incredible when he played the artist Turner, but as L.S. Lowry, well, we think maybe he ought to try a different niche now.