ROTTERDAM – Anders Thomas Jensen is back in macabre form following his 2015 violent and absurdist comedy Men & Chicken. He has created something of a class reunion with his Chicken alumni Mads Mikkelsen, Nicolas Bro and Nikolaj Lie Kaas all starring here. While Riders of Justice is less absurdist than his previous film, Jensen continues with the premise of placing a group of mismatched males together and watching them bond, albeit often with violent and very politically incorrect consequences. Mikkelsen plays Markus, a shaven headed, biblically bearded soldier deployed somewhere in the Middle East who hears he is about to stay another three months. But before we get to Markus, the film starts back in time, in Tallin, where a young girl, Mathilde (Andrea Heick Gadeberg), is about to receive a bike for Christmas. That bike is then stolen, which leads us to Markus's wife and Mathilde sitting in a car that won't start.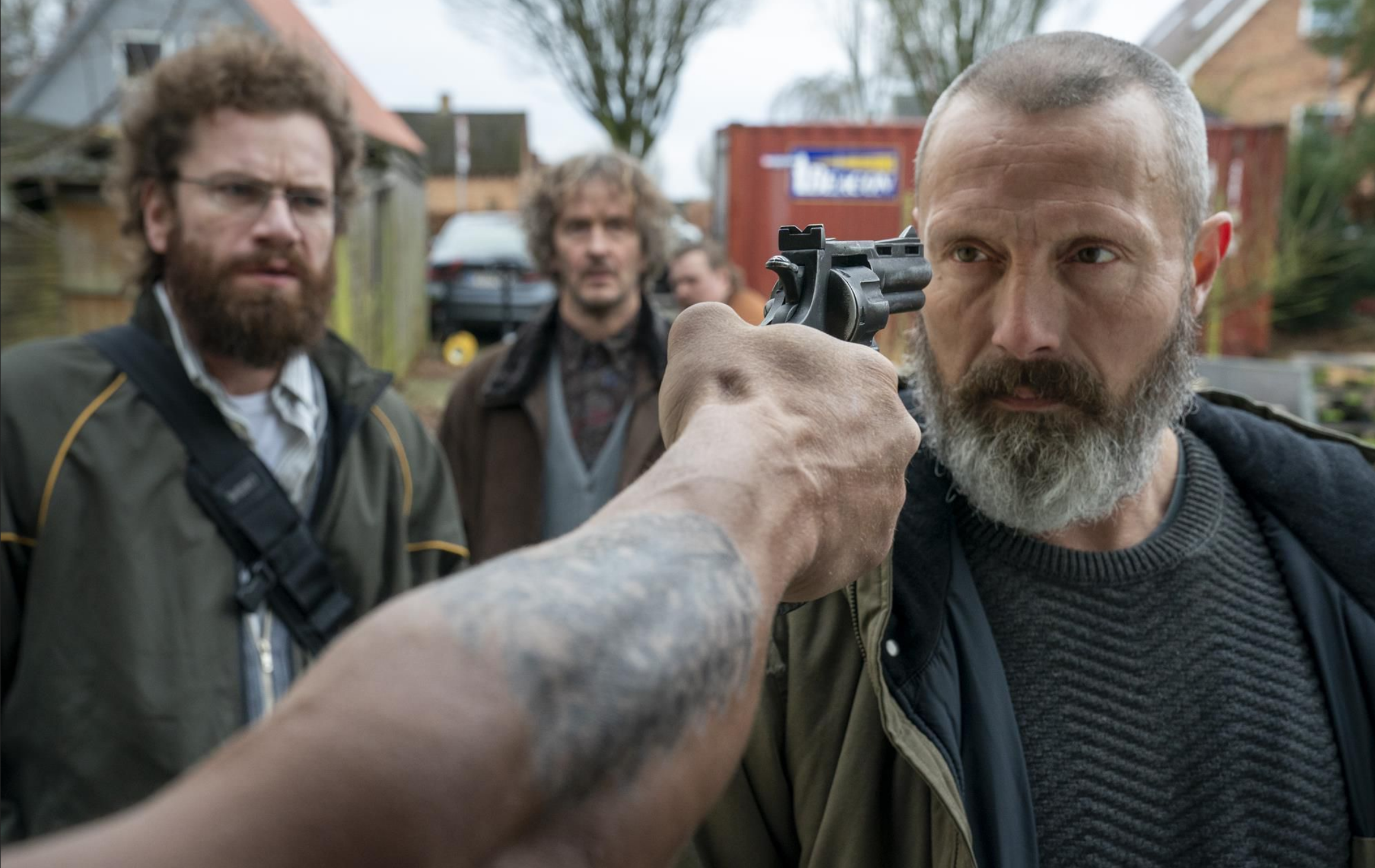 This back story is the backbone of the film, for Jensen's focus is all about causality, correlations between events and the randomness of life that throws disparate human beings together. To bang home this theme are the numbers boffins Otto (Kaas) and Lennart (Lars Brygmann), both of whom are fired from their jobs after serving up a number-crunching double act 46 weeks in the making, the outcome of which is the discovery that rich people drive Mercedes and the poor drive Kias. Otto catches a train home and offers his seat to Mathilde's mum. When an accident happens, it is the woman who dies while Otto and Mathilde remain physically unscathed. Markus returns home, a twitching bag of muscle and jangly nerves. Mathilde has implied that Markus had problems before his wife was killed and his refusal to accept psychological help for himself or his child will have brutal and murderous consequences.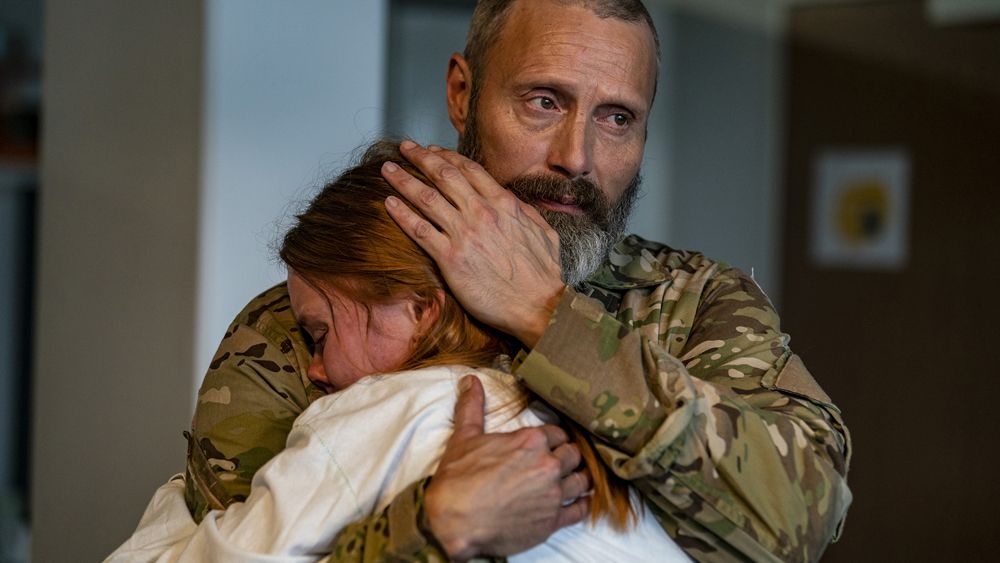 When Otto shows up with Lennart in tow, they convince the PTSD-suffering soldier that a far-right group known as the Riders of Justice is responsible for causing the accident on the train. Their statistical evidence is enough to convince this man desperately seeking an outlet for his violent emotions that justice will be ridden by him and his new-found gang comprising Otto, Lennart and their foul-mouthed computer wizard friend Emmenthaler (Nicolas Bro). That Jensen has taken this story and turned it into a comedy is no mean feat. While he doesn't always pull it off, there are many laugh-out-loud moments, mainly thanks to the bickering trio of socially inept statistics boffins. Lennart's attempts to provide Mathilde with psychological help are particularly enjoyable. Jensen gives each man his own reason for suffering and for seeking either redemption or revenge. Each character helps others to cope with their past and present traumas and the four men, Mathilde, her sweet and sappy boyfriend Sirius (Albert Rudbeck Lindhardt), plus a rescued Ukrainian sex slave, create an incredibly caring family nucleus.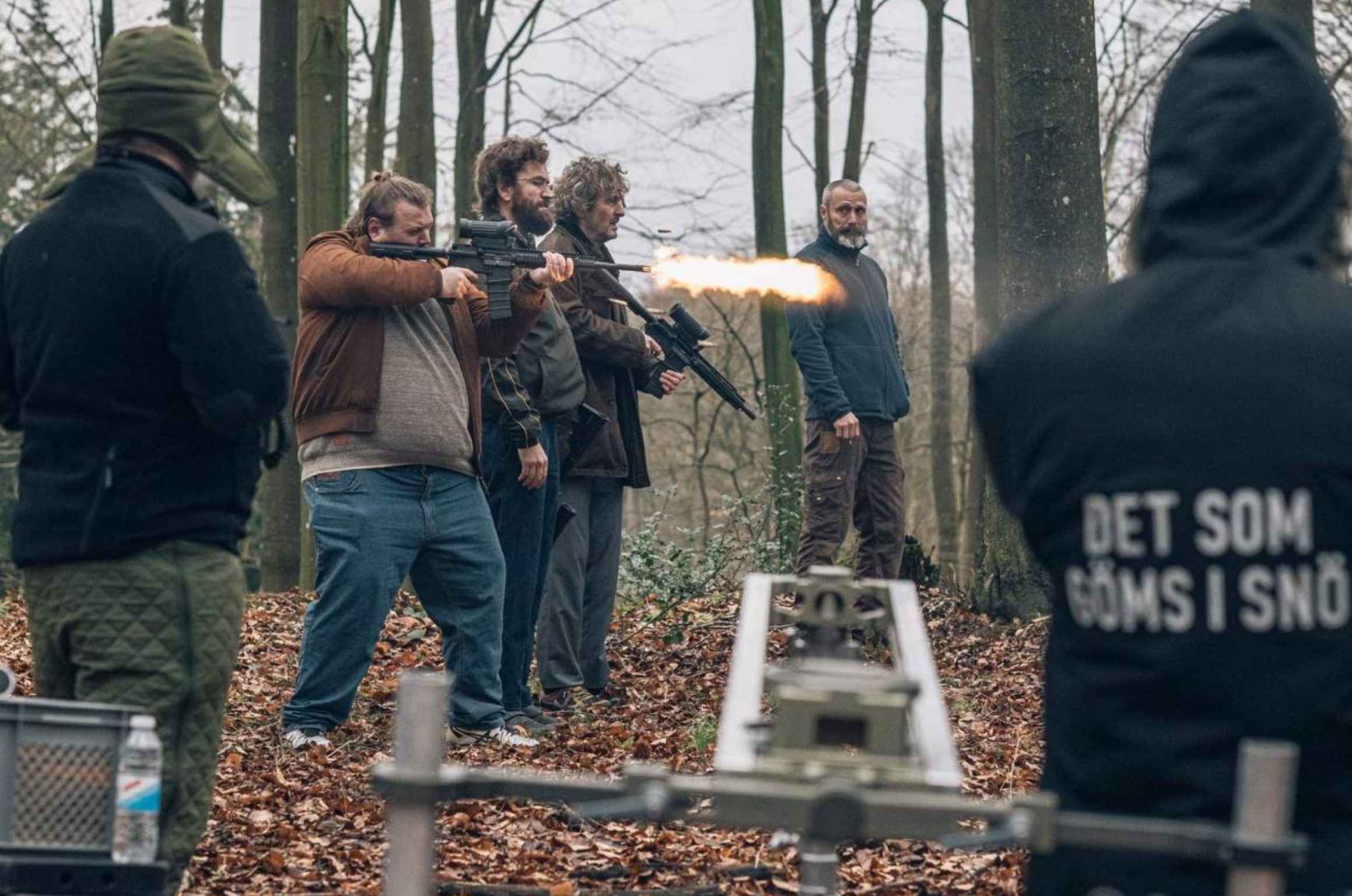 Despite the slapstick, Jensen looks at serious questions regarding seemingly random events and how all our actions can be related to so many others. He takes a good long look at male violence, its causes and its consequences, while seeming to enjoy the violence a little too much himself. It is hard to enjoy a comedy which involves so much gratuitous killing and maiming, not to mention Mathilde's trauma of witnessing the death of her mother and so much more. And the theme of causality is rammed home a little too often by virtually every character, from Mathilde to the priest offering the sermon at her mother's funeral. Suffice to say that Jensen is not for the nuanced approach. Despite the flaws, this is a fun and funny film that offers glimpses of seriousness peeping out from behind the slapstick.
Here the trailer of Riders of Justice: