To celebrate the release of the Downton Abbey movie, we were fortunate enough to be invited to a series of press conferences, with the leading cast and crew members, to discuss this immensely popular show. Given there was a grand total of five press conferences, featuring no less than 19 talented individuals, we've split up own content into two articles – and here below we have some of the biggest names that grace the screen – from both upstairs, and downstairs.
On returning to Downton – and those coming in for the first time…
Tuppence Middleton: It was a little bit daunting joining such a huge cast, and it's been going on so many years. But everyone was so accommodating, and I immediately felt a part of the family. As someone who has watched the series, I feel like I knew everyone anyway, so I had a shortcut to being very at home, so I felt very welcome.
Imelda Staunton: It felt very comfortable. Penelope and I have worked in the theatre together and a few of us did know each other from before, and I have had Carson coming home every night for many years. So I did feel at ease. I would've got it in the neck wouldn't I, from Carson at night if I hadn't pulled my weight. I got the script and I thought, I'll be downstairs, there's no doubt about it, so I was quite surprised to be upstairs. I think Jim and I went to work together for three days and we got a bit over-excited I have to say. I would've liked to have been downstairs giving Carson quite a hard time, but I was very happy in Geraldine James's company, and with Penelope and Maggie. It was like being with Federer and Nadal upstairs.
Jim Carter: I saw less of Imelda than I do at home! We went into work for three days together. She was at the other side of a dining table and I refused to serve her wine in case she got over-excited and expected that kind of behaviour at home. But I do remember the day she was offered the job, she told me she was offered a film and I said, 'anything nice?' and she said 'yeah, Downton Abbey'. But I thought, I've read the script and what can she play? I couldn't imagine her playing somebody posh! For three days we went in together it was a treat. It's like going back to school, but in a nice way. Because it is so familiar, and for me in particular, I put on the same costume I've worn all these years and it was like putting Carson back on, and that was increased because a lot of the crew were the same, it felt very comfortable, familiar and very, very nice.
Elizabeth McGovern: It felt remarkable the same to come back, it was remarkable how everybody slipped into their old roles very seamlessly.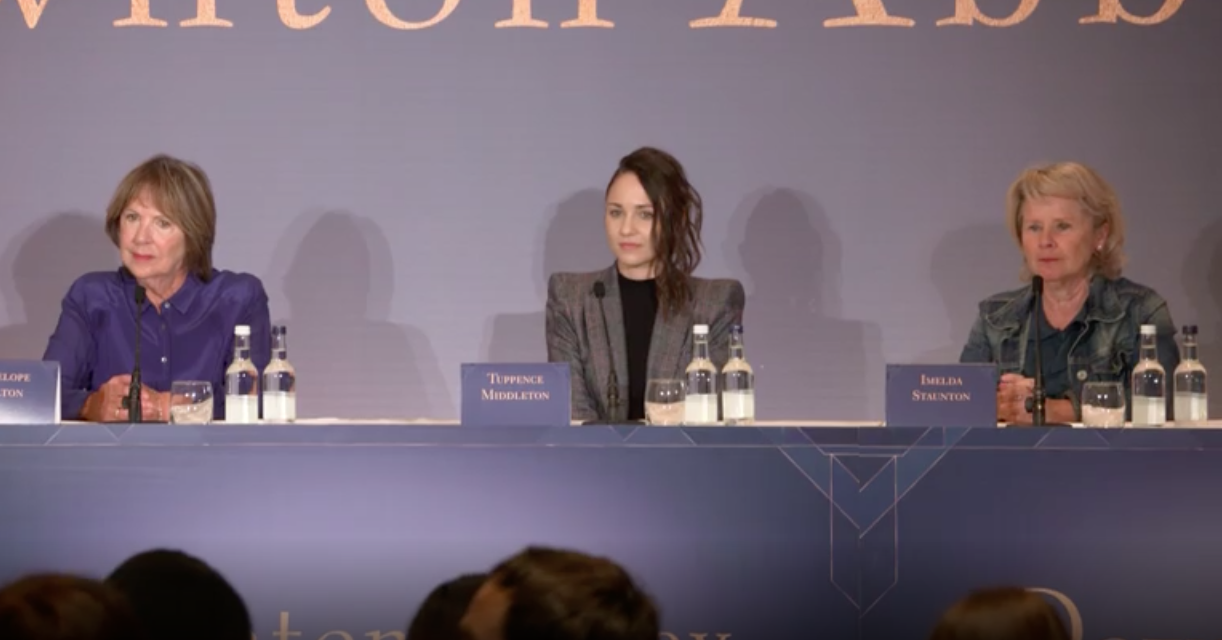 On the enduring appeal of Downton
Penelope Wilton: If I had the answer I would be a millionaire, because one would take out a franchise on it. It's enjoyed in so many countries, it's very story-led, people enjoy following the characters that they identify with, and they like to know what's happening in the interplay with the other characters in this bubble called Downton Abbey. Historically it's very interesting, from 1912 to 1926 we cover a lot of time, including The Great War, which was a very interesting period in history. There's always a fantasy quality and there's escapism to it, because life wasn't like this. At the moment we're living in quite dark times, so the escapism is even more important.
Tuppence Middleton: There's a Britishness to it, and what the world thinks life is like in Britain, which it isn't, but it's something you don't see anywhere else. It's one thing we do very well here, we make great period dramas.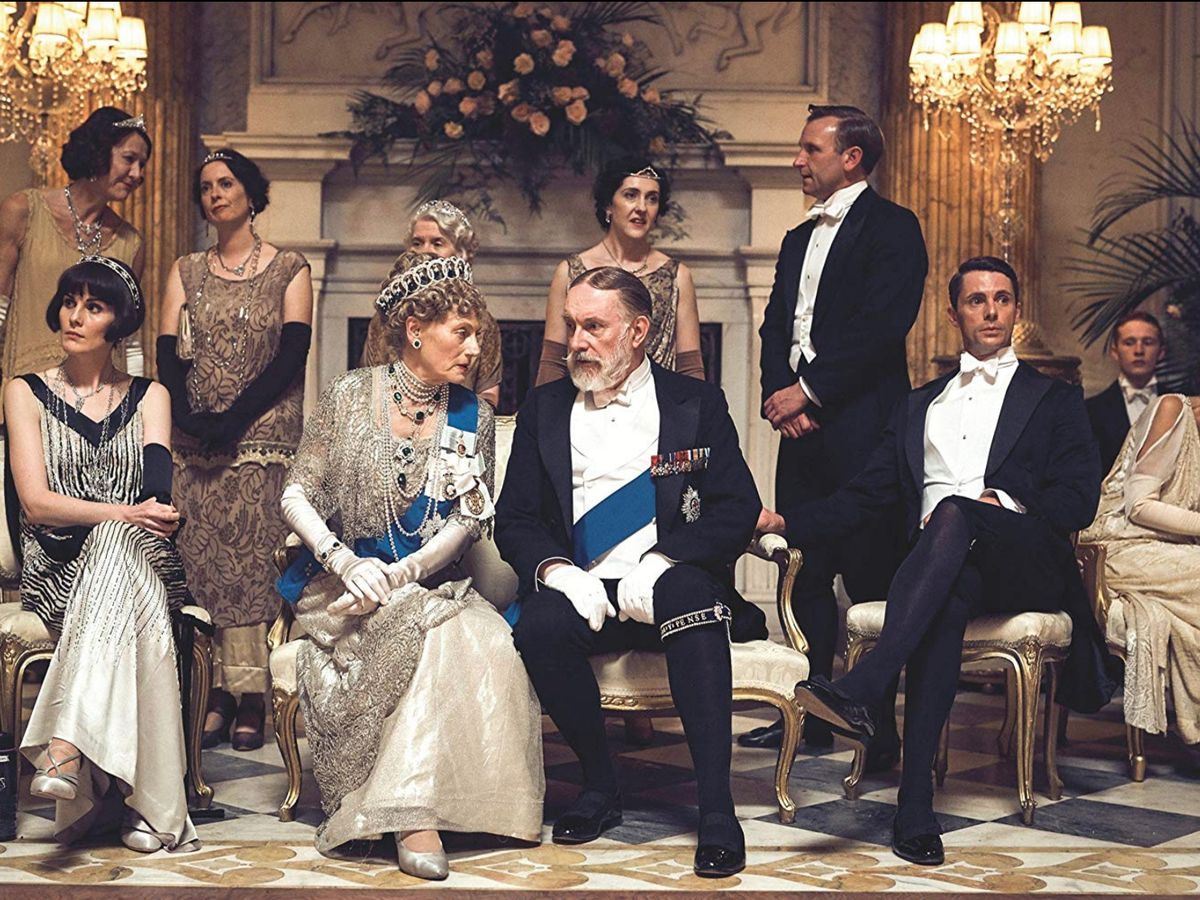 On the social politics and historical accuracy of the show
Penelope Wilton: There's much more equality now, though not enough and certainly not enough between men and women in the workplace. It's all lovely and we all have costumes that match, the same colour palette and the rest of it, but we're dealing with something that's not entirely real. The feeling behind it is that people are trying to do their best and that is something that people have picked up on. It's well-meant, but it's not reality.
Elizabeth McGovern: There is no such thing as that glorious past, this is a piece of entertainment and I feel very proud to be a part of it, but it isn't a documentary about living in the 20s. I personally would never want to go back there, I think women have come so far, we've come from such a place of relative incarceration compared to where we are now. I'm so pleased to go back to my life and where we are now at the end of the day, there's not one part of me that has any sentimental attachment to that era as a woman.
Jim Carter: We show the 20s in a romantic light, I think life would've been hard, and hard for the servants. Hugh is the most benign employer in the world – it's very hard to get sacked from Downton Abbey.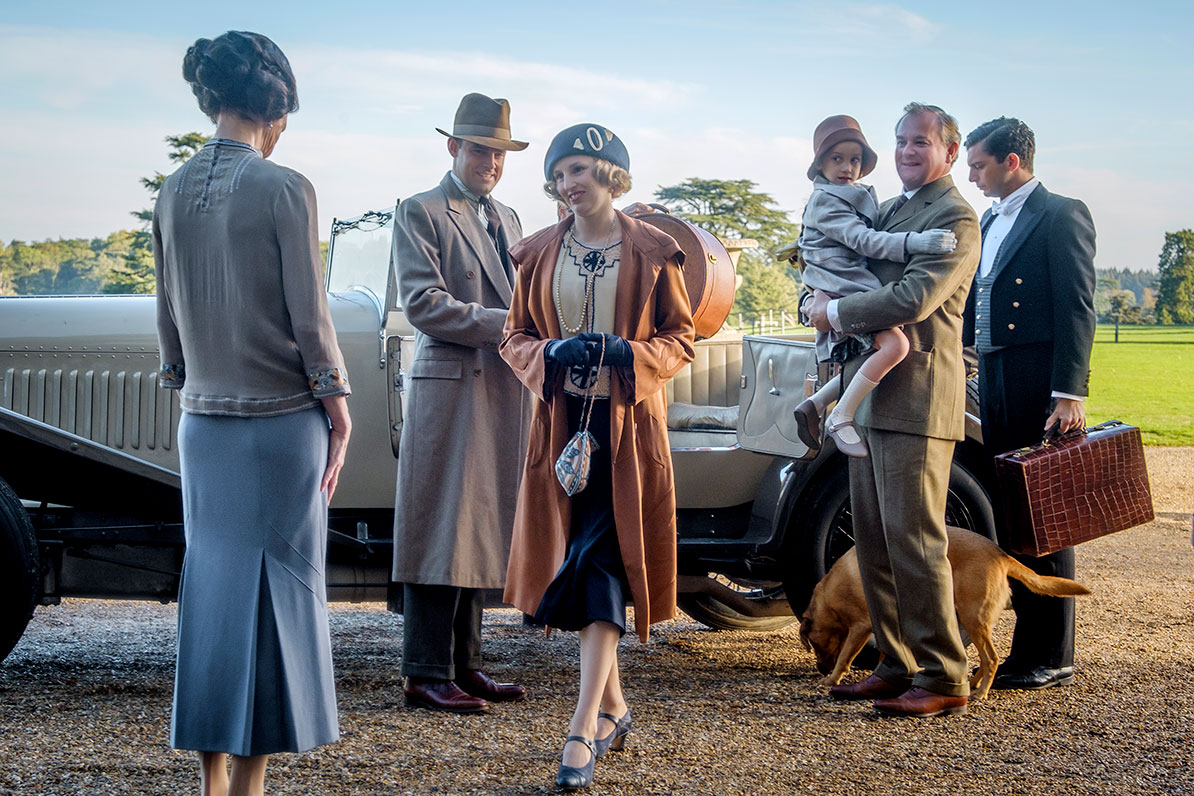 On famous fans
Hugh Bonneville: I remember when we were in Washington DC at a lunch and John Kerry who was Secretary of State and he said he had been recovering from a bad back or something and had insomnia, so he picked up this DVD his wife had been watching at 4am and he said, 'I'm here to tell you sir, I was still there at midday'. He got rather hooked.
Phyllis Logan: There's another White House connection, when we were invited to the American ambassador's residence in London to celebrate Thanksgiving and there was a letter from Michelle Obama there waiting to be read out to us. She's a big fan, and we did actually meet her.
Jim Carter: When Shirley MacLaine turned up her first day of filming was her arrival and she wanted to kiss everybody on both cheeks but was told no she can't do that, then she asked if she could hug Carson. She said she liked Carson, but Shirley we're English… and he's a servant. I appreciated the sentiment. Plus, several people have named their dogs after me, and somebody even named their child after me. Not Charlie, but Carson.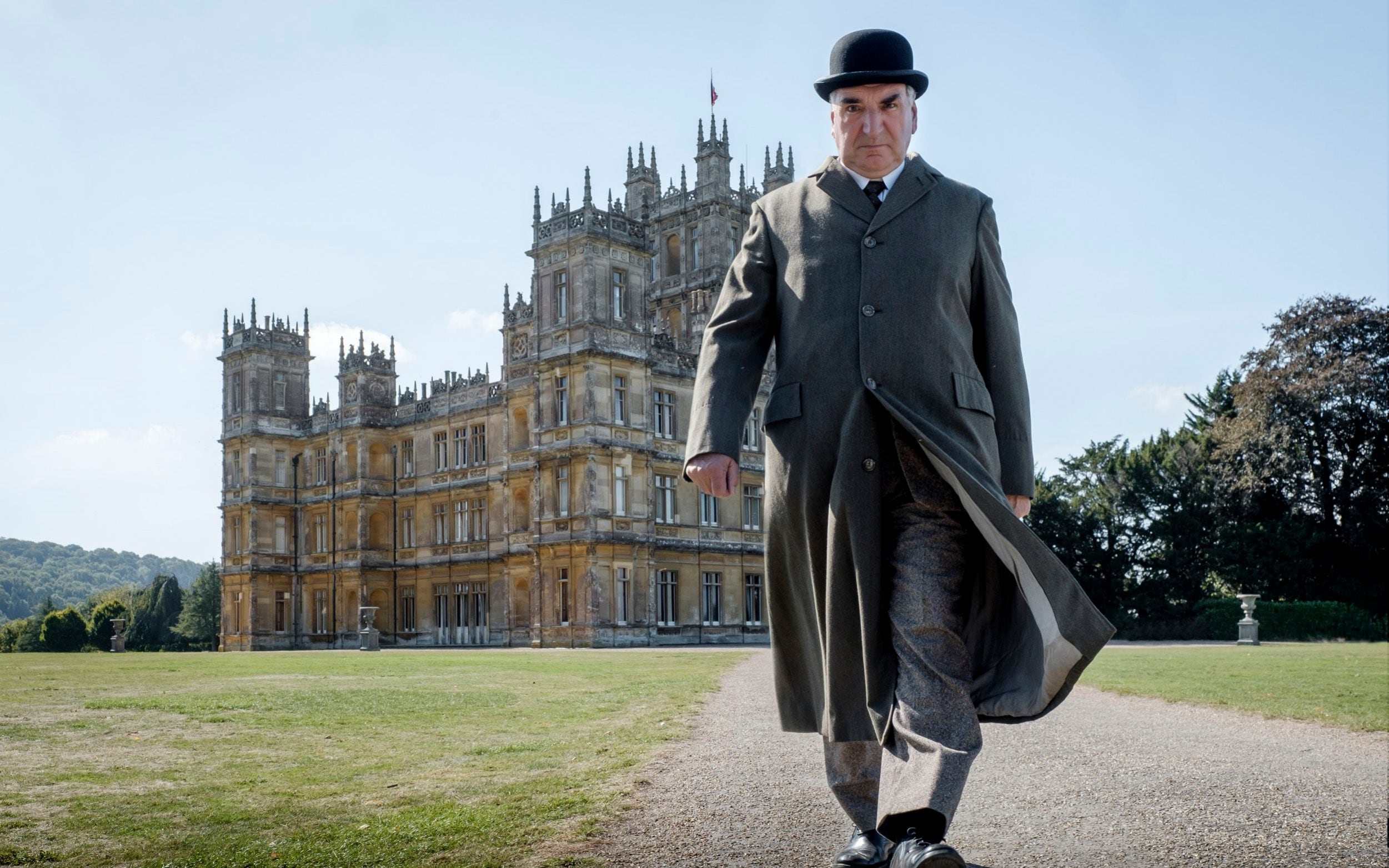 Will there be more to come?
Penelope Wilton: Whether it will be possible or not I don't know, because getting a group of people together, this large, it's taken three years, and a lot of people are working in America now because that's where their careers have taken them, so whether it will be possible I don't know. But there is enough material because the story goes on, and it would be quite interesting to see what happens as the approach of the Second World War comes – and what happens after the Second World War when they were taxed out of existence, these big families. History rolls on and has a lot more to offer, yes.
Downton Abbey is released in cinemas on September 13th