Yesterday we published a series of quotes to have come from the Downton Abbey press conferences earlier this week – though such was the depth of talent, not to mention the quantity, we've had to split this into two parts. In this selection we have the likes of writer Julian Fellowes, director Michael Engler, as well as cast-members ranging from Robert James-Collier, to Michelle Dockery, to Allen Leech.
On returning…
Kevin Doyle: We were all downstairs in that wine cellar and you could see that there were nerves. It's very rare for actors to come back to a role after a three year gap, and I was personally nervous. There were a lot of nerves. It's very rare for there to be a gap like that.
Robert James-Collier: We have so much fun doing it, I don't know why you wouldn't. I think if you're a Downton fan – it looks so cinematic, it's beautifully shot, it's your typical Downton – there's pathos, there's humour and a little mini revolution/revolt.There's something in here for everyone, but if you like Downton then you're gonna get a lot more of the same, but bigger because the budget is bigger.
Allan Leech: In relation to coming back, one thing we all felt when we finished the show is that we had such an amazing time that if we ever had the opportunity to do it again, when that arose, it was a no-brainer, getting to work with people that are my family again. It was an absolute joy. It was wonderful to come back and I'm so excited and proud of what we've made, and I'm very grateful to Julian for giving me such an interesting storyline. Hugh Bonneville rang me when he first read the script and said 'you've got more plots than an allotment'.
Julian Fellowes: I didn't believe in the film. There are lots of wonderful series that have no movie. Mad Men, The West Wing, The Good Wife, none of them have a film, so I didn't see it as inevitable at all, and I thought rounding them all up, since they're all stars now, doing shows on Broadway and series in Hollywood, would prove impossible.
Laura Carmichael: We may never experience characters again like these, and we've grown up with them. The show always feels joyful because all of the characters do feel very hopeful. Even the baddies, you know why they are doing that, you understand their hurt and their pain and I think is Julian's point of view. People who are really trying to do the right thing and just get by, really.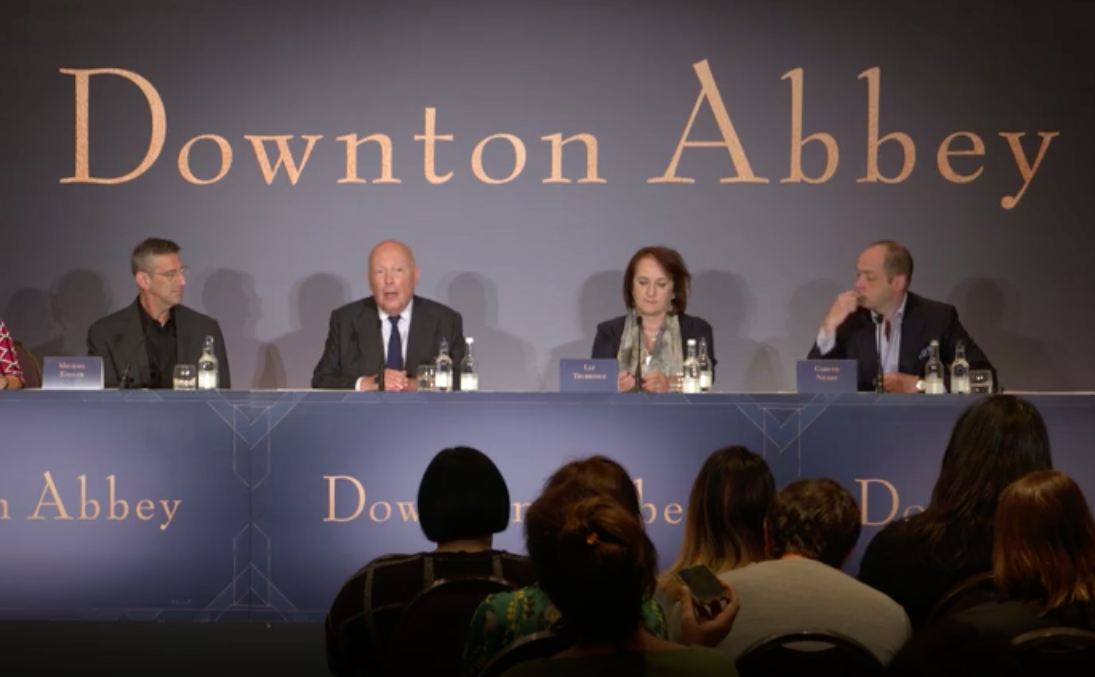 On working with Dame Maggie Smith
Robert James-Collier: You get a clue to Maggie in the fact you don't have to call her Dame, she just wants to be called Maggie. She's been there and done it the hard way, so there's no airs or graces about her, and she is genuinely part of the ensemble. That's why you see her at read-throughs as well despite her winning multiple Oscars and Golden Globes and the rest of it – she just loves to be part of the ensemble, and I find her to be incredibly approachable. She was even in one of my skits for charity brandishing a lightsaber with Penelope Wilton. The fact she was holding my son's lightsaber while Michael Fox was filming it on my iPhone to go on YouTube shows that she's part of the ensemble and game for anything really. She's class.
Michelle Dockery: Any scene with Maggie was a privilege and very special, even throughout the show.But there's one in particular in the movie that felt very, very special and emotional. I don't want to give away much more but it was a very special moment in my career and in my life, actually. I'll never forget it.
Julian Fellowes: One of the nice things that we've discovered about Violet is that we seem to have, in the creation of Violet, touched on a generic type. I have long ago lost count of the number of people of all classes, all nationalities, who say to me that whenever they're watching Violet, they think I must've known their aunt Maud, or their mother-in-law. You realise that these strong women who took over, from my generation it was very much the women who had been in charge during the war when the men had gone off to the front and they had to keep the show on the road, and those very strong women were, when I was a child, in their 60s, and I think these very strong women holding a family together are a social type that almost all of us have come across.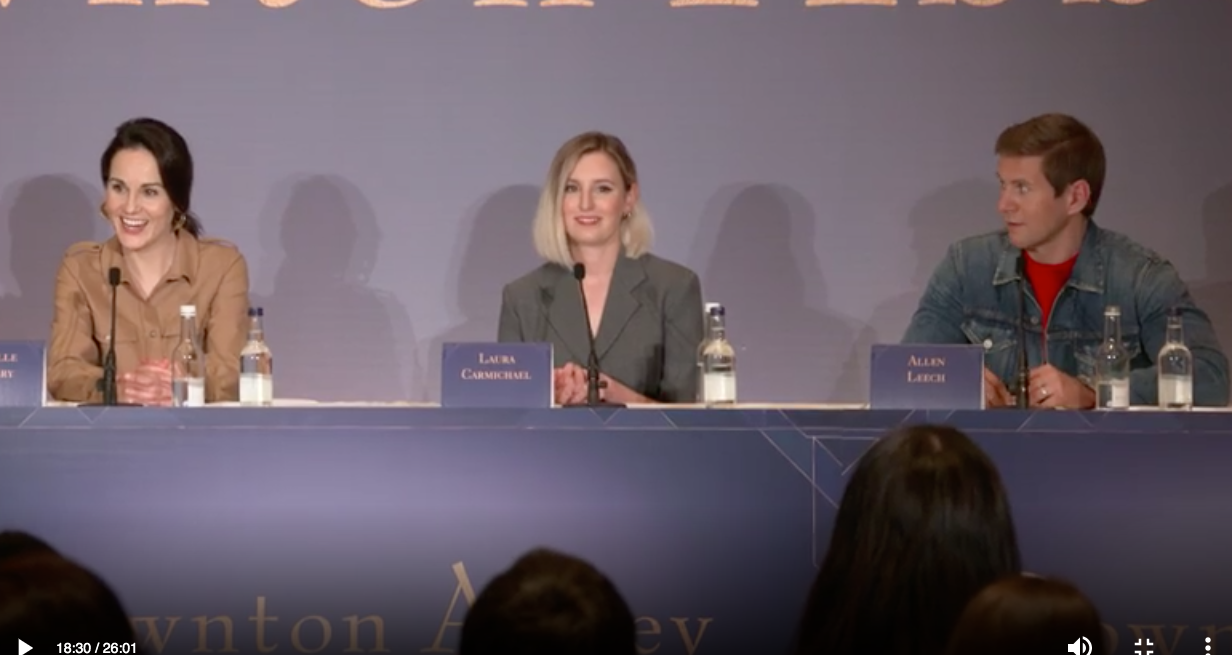 On taking souvenirs…
Laura Carmichael: I took a handbag, a little purse. It was the last scene we were shooting, as in the last scene ever shot, and we started shooting at 1am and finished at 6am so it was a bit of a bananas day, and all of the crew were dressed as extras. Maybe they were delirious because they said I could have it because I said I liked it. So yeah, I took that away.
Michelle Dockery: I wish I took my wig, I love that wig. But if I had to take something, I'd like the little salt and pepper pots from the dining table, and the mustard pots. We'd play wink murder, and in one of those pots was all of the little pieces of paper with the crosses, and I think it was always the same, they never changed that.
Allen Leech: It you really want it, talk to Laura. She'll probably sort you out. The only thing I ever took were the little menu cards, which were written up every time we had a new meal, and I have one of them framed in my house. They make an amazing breakfast on set. One thing myself and Hugh always suffer from is that we actually eat the breakfast, and of course we do about 28 takes. I was delighted on my first day back, I forgot how good this breakfast was.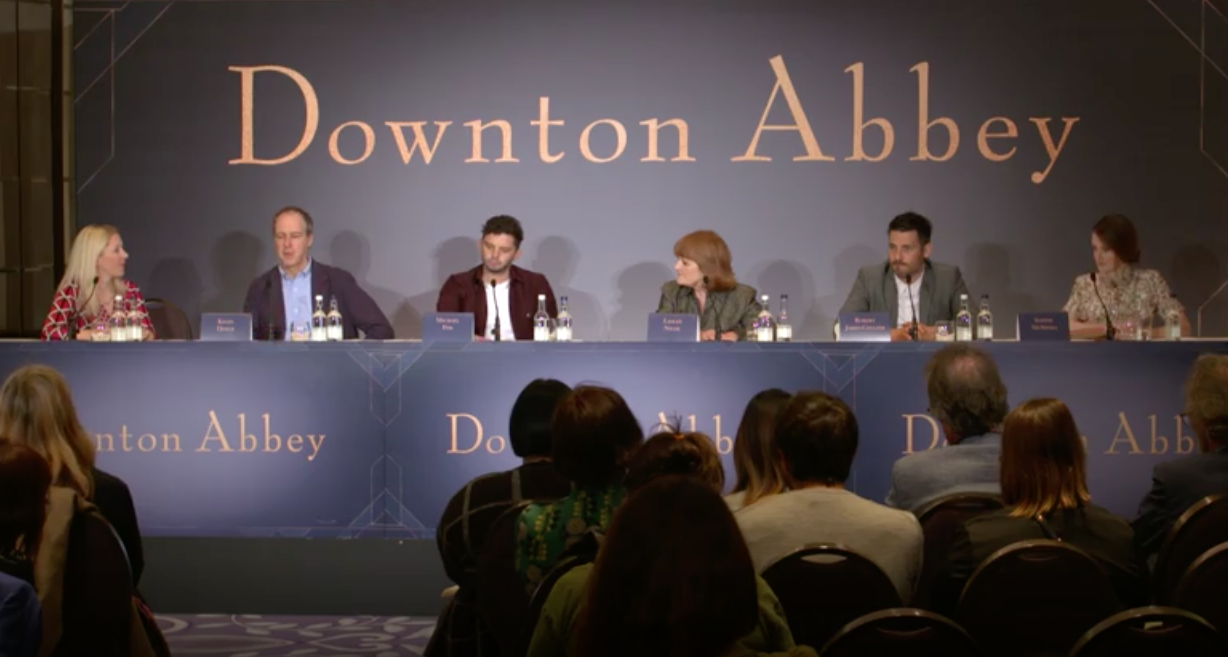 On the popularity of the show
Michael Engler: I think part of its popularity is that it doesn't do that, it satisfies some of the undercurrents that are at the heart of all this, a sense for the longing for a time when people experienced more connection to a greater sense of community, or a greater connection to people who aren't like them who don't live like them. Because it's become so contentious and fragmented, I actually think its one of the things people love about watching the series and coming to the film.
Julian Fellowes: In the end, every series is successful or not according to whether or not the public cares about the characters in it. If you care about how it comes out and you want to see them again next week, you watch the show. If you don't, you don't. People bang on about its Britishness but what I think we have managed to do, probably as much through luck as judgement, is create a series of characters that people get involved with and mind about. One of the reasons that period drama is rather appealing is because society was not, on the whole, structured in favour of women and it was a very male dominated society, logic tells us there were just as many ambitious and intelligent women being born as there are today, because the human race doesn't change much, so they had to find inventive ways to achieve their ambitions and demonstrate their strengths, and that gives you a kind of tension in creating those characters. You can see they're strong and even though society is not helping them, they're still managing to make their lives work. The Downton film is a way that everybody can take two hours off Brexit – it's one of its main selling points!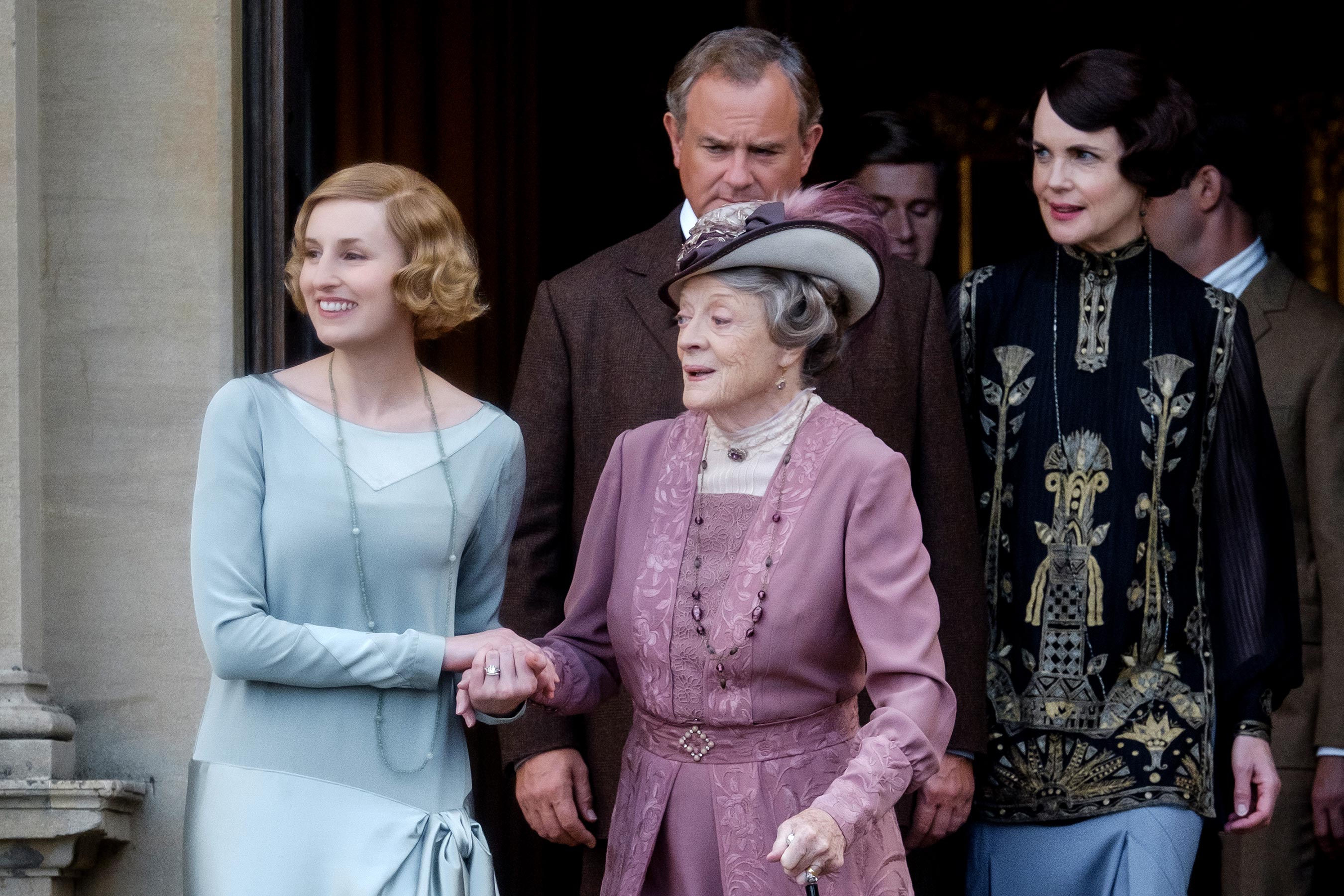 On the challenges in taking this from the small screen to the big one
Julian Fellowes: There are different disciplines in making a movie to making a television series. In a series not everyone expects to have a major story every week, they probably have two or three in the process of the series. Not every story is completed every week, some go through two or three episodes, some a full season. A film is different on both counts, everyone who appears in it must have a reason for being there, and all of those narratives must be completed and resolved within the film. You can't say to people 'we're stopping this story – come and see the next film' – it doesn't work like that. So the structure was altered in that way. But we also wanted people to recognise the series they've loved within the film and not come and be disappointed. Our job was to make it more cinematic and find a central subject that would allow us, plausibly, to increase the scale and fill a larger screen, and as to whether we've done that successfully, that's not for us to judge really.
Michael Engler: It being one story would pull all the characters in, that everybody on some level had to be invested in the same thing. So even though they're going through seperate things in their lives, the Royal visit is something that everybody had to invest in, and step up their game, and it was an opportunity for them to come through for the greater good of Downton.
Julian Fellowes: It gave us a unifying element we didn't always have, or need in the series. We needed a unifying factor that would affect them all.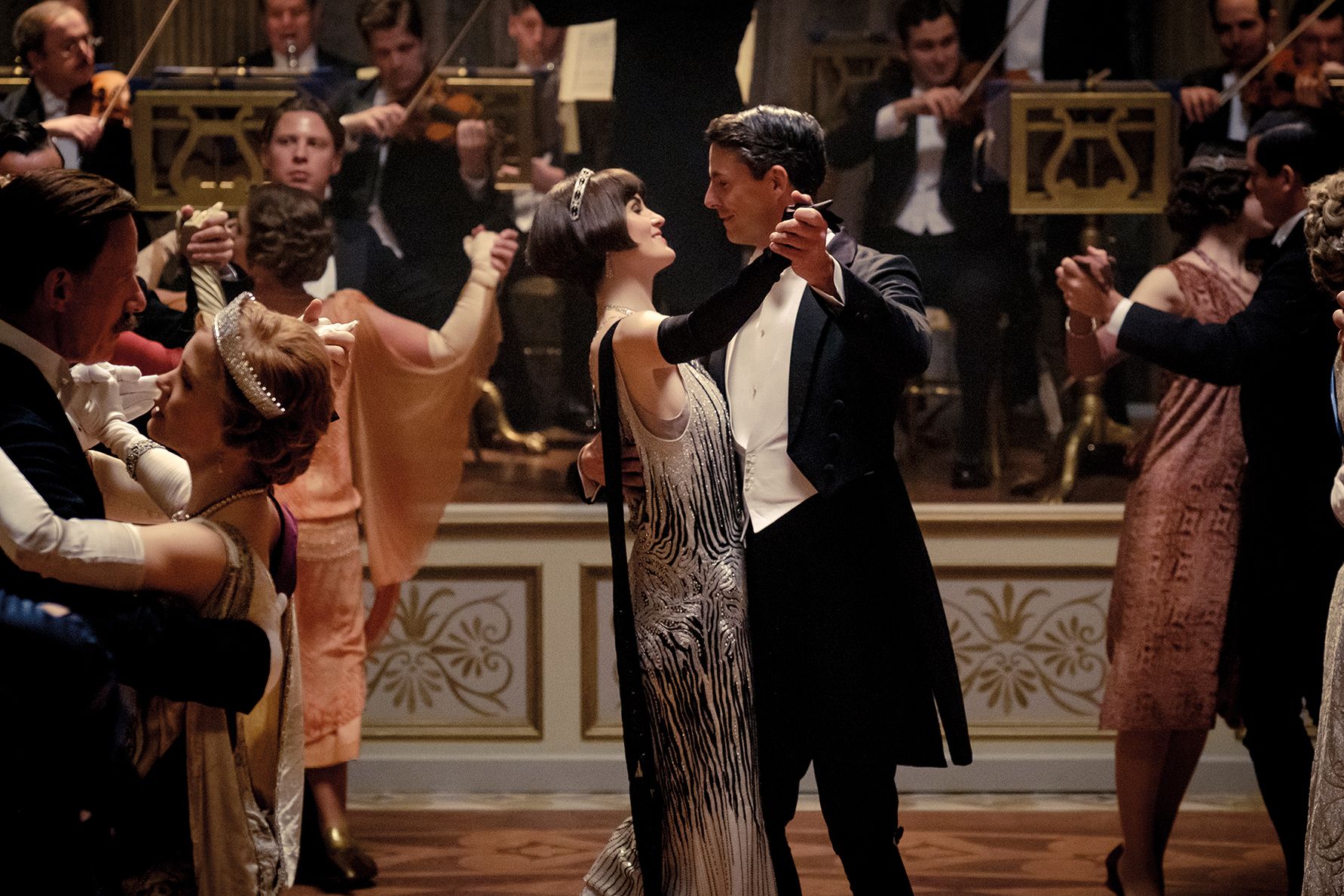 On the prospect of more Downton Abbey…
Julian Fellowes: There's no point in saying no, because the moment you say no you have to swallow it. But I don't know, I don't know if there will be more. We have gone with them for 15 years, from 1912 to 1927 and we've done that over the space of ten years, so the difference between actual time and fictional time is not very great. I don't really believe in talcum powder hair and wobbly stick acting, and if you make them age 60 years its not very credible. So I'd rather we pace on a fairly slow manner, so I wouldn't take them 20 years forward. So whether there's another bite to come out of it? Who knows. It depends on how people respond to the film. It depends entirely on that, in fact.
Downton Abbey is released in cinemas on September 13th