Michael R. Roskam (Bullhead, The Drop) returns with his latest venture Racer and the Jailbird, which tells the story of two lovers, in a complex romantic situation – portrayed here by Matthias Schoenaerts and Adéle Exarchopoulos. To mark the release we had the pleasure of speaking to the latter on the phone – who very kindly gave up some time on the same afternoon that France were playing the World Cup final. After a brief chat about the game (one she'll have thoroughly enjoyed, we're sure) we got into the movie, and exactly what it was about this project she cherished most.
I'm going to begin by asking what initially attracted you to getting involved in the project?
First of all, before reading the script I was a huge fan of Michael's movies, Bullhead blew my mind, I love the way he shoots, it's something I can't explain, but I was excited even before reading the script. What I loved most though was the love story, because for me it's a loyal love story, with frustration, sacrifice, everything that you need to fight for love. It was such a rich script, and when I say rich I'm speaking about humanity, I loved the fact that my character has a male attitude, the fact she's a racer and I loved the fact I had to learn how to drive, to get my licence, which I didn't really have. Also, acting with Matthias was something I was really looking forward to, I just knew I had to be a part of it.
You had to learn how to drive just for this movie?
Yeah, I've missed out on my licence two times before. So I had to go and get it, to take off the pressure on the shoot. But I'm not doing all of the stunts.
It's nice, you've left this project with a good movie to show off and a driving licence.
Yeah, in general it's one of the things I love about making a movie, you have to get into someone else's skins, so it's great to have to learn all of those skills.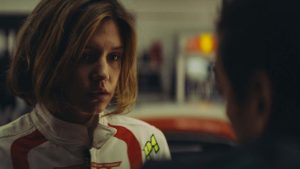 I always imagine that one of the great joys in acting is developing so many skills along the way you may otherwise have missed out on.
Of course!
Like you said earlier, Bullhead blew me away too when I saw it a few years ago. It must've been great to now work with Michael on this?
Yeah and he has this kind of childish energy, he's so excitable. When he's on set he acts like it's his first movie. He's patient, but at the same time he had a great brain, with a childlike way of wanting to try anything. He knows Matthias so well but I never felt like I was out of place, they welcomed me so well. What I love about Michael is that he serves the character, he doesn't make a film for the public or thinking about how people are going to react, he speaks to the truth of his characters. That's why I love his movies.
As for collaborating with Matthias – he's a great actor, and a nice guy to boot. That must've made it easier to develop this complex love story together?
Yeah Matthias is someone who has this instinct as an actor, but at the same time he is really generous. He has humanity, and he's straight to the point, and he sticks to his character. At the same time he has a sort of shyness, and there's something very humble about him, which is one of the things I love most about him. He has this sense of modesty.
Your character is really into racing – what do you think might have been your back up profession had you not got into acting? Was there a secondary career you had in mind?
It's a question I have asked myself a lot of times and I don't think I have the answer. When I was a student I just wanted the chance to be in the right place at the right moment. In my head I was planning the next six months, maybe working in a bar or restaurant, and then for six months I would go travelling because I love to travel. So I don't know if this didn't work out for me if I would've come back or not. Honestly, I don't know.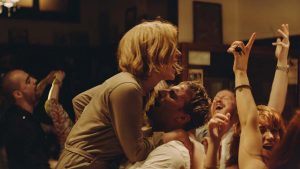 Do you remember the moment in your life you realised you were now an actor? For many years I'm sure it feels like a dream, something you want to do when you're older – but was there a specific moment for you when you thought, 'I am actually an actor, this is now my job'?
I have a family now, I have a child, and now as a mother I'm like okay, I have to work. So only now this feels like my job because people are now counting on my job, my family is counting on my job. So I guess that it's my job now!
We can see you next in The White Crow with Ralph Fiennes – do you plan to make more movies in different parts of the world, be in the UK or America?
I want to play good parts, and work with people like Ralph Fiennes. So I just look for the roles, the characters that I want the time to be, and of course there are directors all around the world with huge talent that I have the ambition to work with one day, and be a part of their movies.
From the outside, it seems that France is creating better roles for women than a lot of other countries. Can it be hard then for French actresses to want to leave and seek roles elsewhere? Because many of the best roles for women are coming in your nation's industry?
Yeah, I think everything is in evolution, but I think in France, and I hope, that it's a place to get good roles, to not just be the girlfriend of someone, or just a lover, I'm not the girl from the shadows just there to look beautiful, thanks to a lot of directors we are creating a lot of good roles.
Just to go back a moment – what is Ralph Fiennes like as a director? He's so well known for his work in front of the screen, we're still interested to hear what he's like behind the lens?
He has a lot of attention and precision, because there were a lot of actors on set at the same time. He gave time for each of us, and strived for perfection, it was only perfection he wanted to create.
Racer and the Jailbird is out in cinemas now.