With the outrage over the horrifying gangrape and murder of an eight-year-old girl in Jammu and Kashmir's Kathua growing louder across the nation, the Bollywood fraternity too could not hold in the rage anymore. The recent investigation into the January incident has unfolded the gory details of the crime that was allegedly committed inside a temple where the girl was sedated, raped a multiple times, and later murdered and thrown in the woods. Ashamed and enraged, Bollywood now demands #JusticeForOurChild. Celebrities like Sonam Kapoor, Vishal Dadlani, Kalki Koechlin, Richa Chadha and many others have posted pictures on their social media holding placards with a message demanding justice for the victim.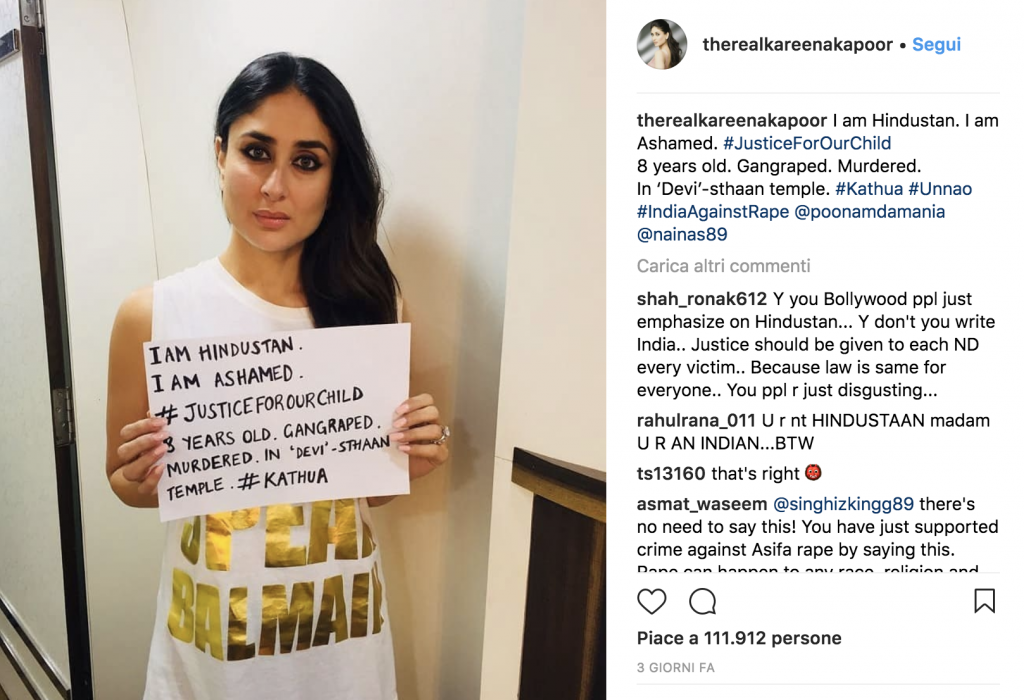 People have followed in their footsteps, which has given way to a new trend that is purely and wholly for a social cause. The latest to join the list is Kareena Kapoor, who took to Instagram and posted a photo with the placard that read, "I am Hindustan. I am Ashamed. #JusticeForOurChild 8 years old. Gangraped. Murdered in 'Devi'-sthaan temple. #Kathua". A couple of days ago, Sonam Kapoor posted a similar picture on Twitter, with the same caption. Kalki Koechlin also shared a photo "Ab bhi jiska khoon na khaula, khoon nahin woh paani hai. (Even after this incident, if your blood doesn't boil, it's water that runs in your body, not blood) #ArrestTheGuilty.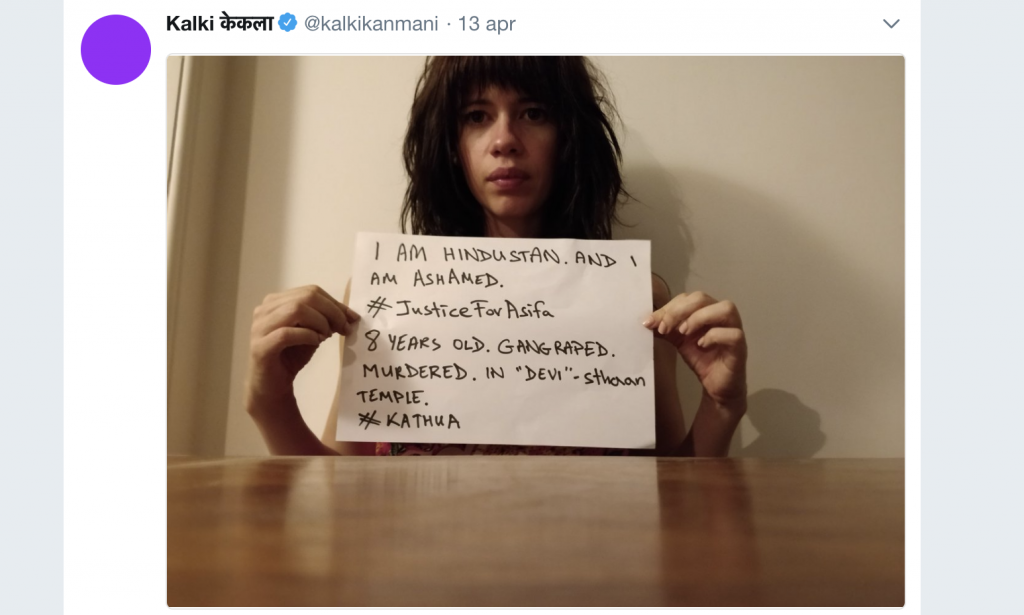 "Don't let this matter be pushed aside by the news-cycle driven media. Raise your voice, put up your own pictures and tag me," tweeted Vishal Dadlani. Manoj Bajpayee too joined the others, and wrote, "#ashamed #angry #JusticeforAsifa," while sharing the photo. Richa Chadha went a step further and uploaded a video with the placard-message on Twitter. Others celebrities also spoke up about the gruesome incident. "Imagine what goes through the mind of an 8 year old as she is drugged, held captive, gang raped over days and then murdered. If you don't feel her terror, you are not human. If you don't demand Asifa get justice, you belong to nothing," Farhan Akhtar wrote on Twitter.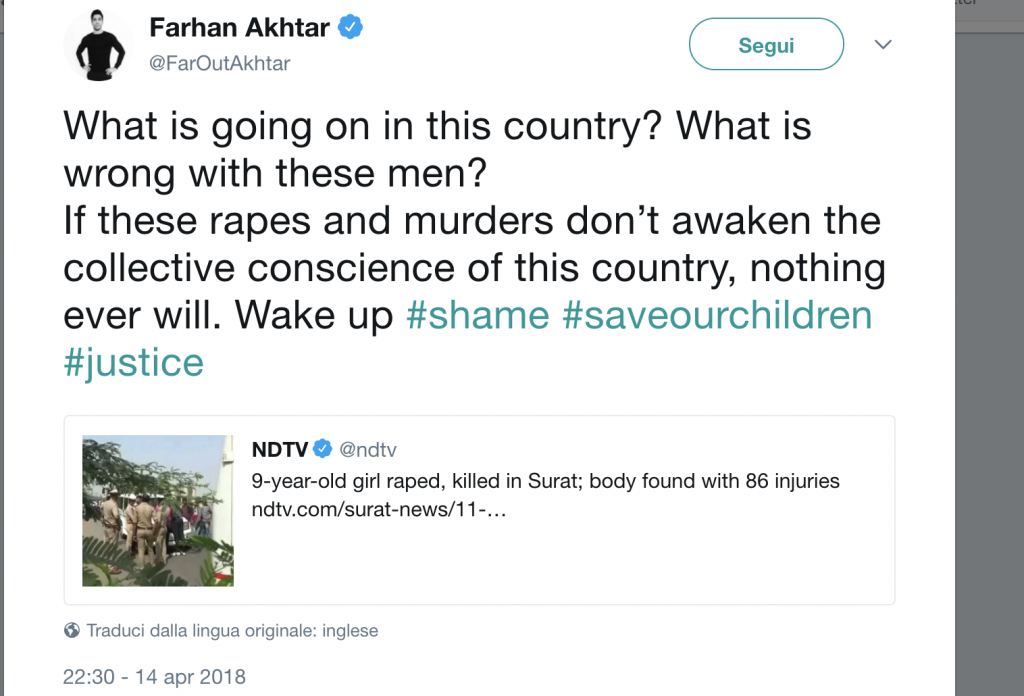 "How many more children like baby Asifa will be sacrificed at the intersect of religion & politics? How many more children will have to suffer unimaginable crimes before we wake up? I'm disgusted. It's time for swift action. We owe it to Asifa and to humanity. #justiceforAsifa," Priyanka Chopra tweeted.' Akshay Kumar wrote, "Yet again we've failed as a society. Can't think straight as more chilling details on little Asifa's case emerge…her innocent face refuses to leave me. Justice must be served, hard and fast!". In recent developments on the case, two Bharatiya Janata Party (BJP) leaders, Chandra Prakash Ganga and Lal Singh, resigned following accusations of attending a rally in support of the miscreants responsible for the crime.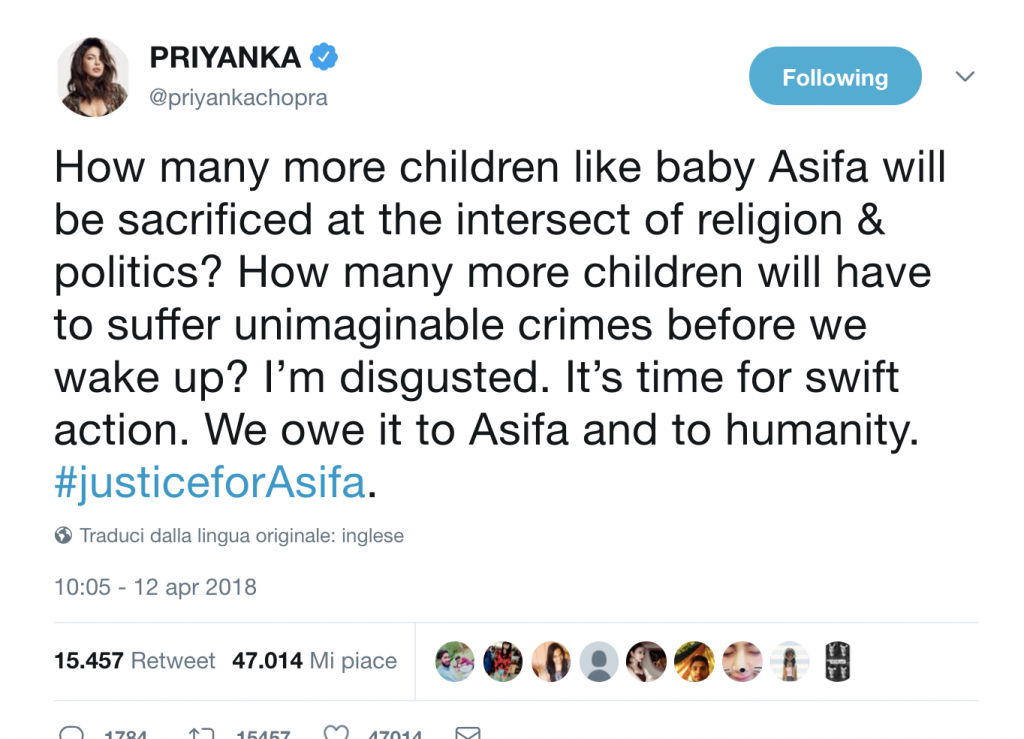 What is the Kathua rape case about?
In early January, Asifa Bano, an 8-year-old girl in a purple dress, was grazing her horses in a meadow in Kashmir when a man beckoned her into a forest. She followed. According to police, he grabbed her by the neck and forced her to take sleeping pills. With the help of a friend, they say, he dragged her to a nearby temple and locked her inside. For the next three days, police say, the two men and at least one other raped her, again and again. Suspects told investigators that their motive had been to drive Asifa's nomadic community out of the area. In the end, she was strangled, after one of the men allegedly insisted on raping her one last time. Days later, Asifa's crumpled body was found in the forest, in the same purple dress, now smeared with blood. Eight men have been arrested in connection with the case, and several have confessed, according to police in the state of Jammu and Kashmir, where the killing took place. Two of the accused are police officers said to have accepted thousands of dollars to cover up the crime. One of the arrested suspects said he was 15, though police officers, based on a medical examination, believe he is at least 19.