I was recently wandering the aisles of a local pound emporium when I happened upon their music section. Among the latter-day Robbie Williams albums and Britpop cast-offs was a genuine find. For £1, these philistines were selling the magic of the Empire Records soundtrack. It's been a long time since I watched the movie, but it's a rare week when 'Sugar High' and 'Til I Hear It From You' aren't running around my brain. Needless to say, I snatched it up, after gushing to the unimpressed salesperson about the grail they'd carelessly left lying around.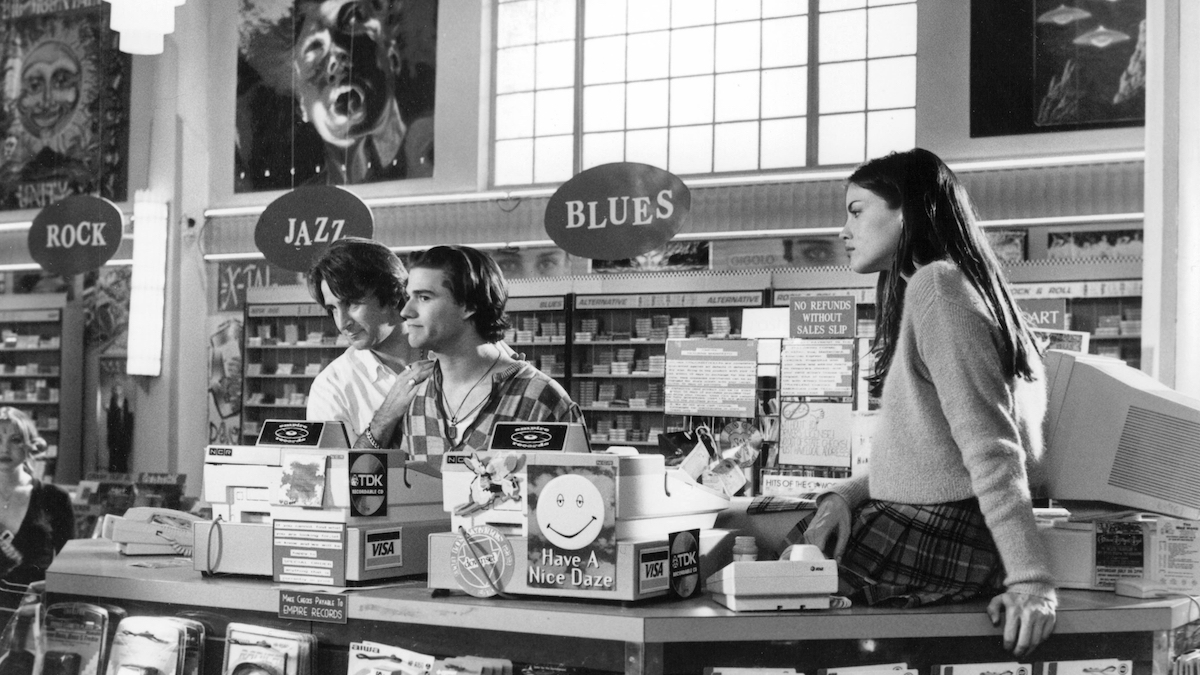 The 90s was arguably the heyday of the soundtrack. You saw the movie, sprinted straight to the nearest Tower, HMV or Virgin Megastore and fell asleep that night to whatever song was playing when boy met girl. Sometimes you got a lovingly curated collection but, in reality, the OST was often a dumping ground for B-sides or off-album cuts that occasionally weren't even in the movie (beware the words 'songs inspired by…'). But sometimes, those unloved shaggy dog songs opened the door to a new favourite band and a love that lasted longer in the memory than the movie that begat it.
Onwards, dear partners in nostalgia, to part one of our greatest soundtracks of the 90s. Part two will follow next Wednesday 21/11/18.
20. TRAINSPOTTING – Speaking of lovingly curated, Danny Boyle's 90s films did the whole soundtrack thing incredibly well. Trainspotting was by far the best, not only because of the songs themselves, but also because of how the soundtrack reflects the film and its themes. There's a running vibe of good times teetering on the brink of cataclysmic collapse, the fleeting high and the inevitable hellish comedown.
Highlights The unavoidable 'Born Slippy' by Underworld; the frantic rush of Iggy's 'Lust For Life'; the utterly apt "You're going to reap just what you sow" refrain of Lou Reed's 'Perfect Day'.
19. VARSITY BLUES – This James Van Der Beek football movie is one of the more forgettable films on this list: a charmless Friday Night Lights for Dawson's Creek fans, only remembered for Ali Larter's whipped cream bikini. Its soundtrack is considerably better though, serving as a who's-who of 90s American alternative rock (Green Day, Third Eye Blind, Foo Fighters, Collective Soul) with a couple of lesser lights getting a brief moment in the sun.
Highlights 'Black Eye' by 90s soundtrack regulars Black Lab; Redd Kross's fuzzed out 'Teen Competition'; the Elvis Costello-isms of Fastball's 'Are You Ready For The Fallout?'.
18. FRIENDS – It's hard to recommend anything involving Hootie & The Blowfish, but there's a lot more going on here than dull acoustic rock and The Rembrandts' ubiquitous theme tune. The audio clips from the show irritate over time (why did anyone other than Quentin Tarantino think that was a good idea?), but there's some great 90s college rock to be found here, including Grant Lee Buffalo covering The Beach Boys and a Paul Westerberg rarity. Just steer well clear of volume two.
Highlights The unfortunately titled Toad The Wet Sprocket with their jangly, catchy 'Good Intentions'; aforementioned Paul Westerberg rarity 'Sunshine'; R.E.M. B-side 'It's A Free World Baby'.
17. REALITY BITES – Like most teenagers, I learned valuable lessons from crappy relationships. The most valuable of these lessons came via one girlfriend's discerning older sister who introduced me to Wilco, Radiohead, Dinosaur Jr and this soundtrack. If you were at all angsty and lovelorn in the 90s, chances are you had this on repeat. Lisa Loeb's 'Stay' was the huge hit, but the rest ranges from enjoyably melodic fare (Squeeze, Crowded House, The Knack) to the noisier likes of The Posies and Dinosaur Jr.
Highlights U2's soaring 'All I Want Is You'; the stark vulnerability of Lisa Loeb's 'Stay'; the speaker-destroying fuzz of Dinosaur Jr's 'Turnip Farm'.
16. CAN'T HARDLY WAIT – This sweet 90s teen romance takes its title from a song by Minneapolis cult heroes The Replacements, which is a damn good start. That song – the closest thing they had to a hit – is present and accounted for on the soundtrack, alongside an eclectic mix of funk (Parliament), hip-hop (Run DMC, Busta Rhymes), alt-rock (Feeder, Black Lab), hard rock (Guns N' Roses) and… umm… whatever Smash Mouth is. The only way this can feel more like a 90s American house party is to invite some frat boys over to beat you up and trash the place while you listen to it.
Highlights The bruised, drunken romanticism of The Replacements' 'Can't Hardly Wait'; Matthew Sweet's lovely 'Farther Down'; 'Paradise City' because it's 'Paradise City'.