Manchester Animation Festival 2018, the UK's largest festival of its kind, is now in full swing with an eclectic mix of short and feature-length animated films to see, as well as a number of workshops, panel discussions, masterclasses and screen talks open for attendance.
One of the most intriguing titles of the festival is Night of the Trampires, a stop-motion eighties action horror comedy homage which has been building buzz from other festivals around the world. We chatted briefly with the film's director and creative figurehead Michael Mort, where he talked about his career prior to the film, his early formative shorts and the film's particularly long gestation period.
For those who don't know, what is the film about?
It's called Chuck Steel: Night of the Trampires. It's a love letter to the movies of the eighties – action and horror movies. It's filmed in stop-motion and the story is about a cop on the edge, Chuck Steel, who is thrown into this weird scenario where Los Angeles has been taken over by alcoholic vampires who only attack drunk people because they have alcohol in their blood. It's pretty out there and a lot of fun.
You clearly have a love for that era the film is a pastiche of, but what made you think it could work in Claymation?
I don't know if it was a conscious decision to do it as stop-motion for a particular reason, it's just that's the line of work I've been in for the last 25 years. It's a medium that I really like. There's something magical about it. It just works for the way I designed the characters and their world.
I think if I'd tried to do it as live action, there's certain jokes in the film that wouldn't have carried. Stop-motion allows you to go a bit crazier with a number of things.

Have you done anything similar to Trampires previously?
I worked with Aardman Studios briefly. I did five episodes of Shaun the Sheep for them. I had an animation company years ago that made a BBC2 show called Gogs, about a family of cavemen. That was early on in my career. Since then, I've worked on lots of commercials over the years as a freelance animation director and animator.
I came up with the character of Chuck Steel when I was about 15 years-old, back in 1986. So I've been trying right through my career to get this project off the ground. There's a number of short films with Chuck Steel in. There's one I did at college and another I filmed in my parent's garage when I was 15. Hopefully all of those old films will appear on a Blu-ray release someday.
Did you take some of the elements from those shorts and put them in the feature?
A little. The character of Steel has evolved quite a bit over the years. There was less comedy and irony about him at the start because that was close to the films I was riffing on at that time. I always had him battling monsters because I'm a big fan that world, particularly the likes of Ray Harryhausen.
If you watch the shorts now, [Steel] still looks like how he did back then, but [the films] are pretty rough and there's less story. They're just an excuse for a lot of action but I was learning my craft back then.
So was it a completely different kind of beast when it came to scripting the feature-length film?
I'd written short form stuff before. Although the Gogs didn't speak, each episode all had mini three act-structures, and I learned a lot about that process on the show. The Trampires script has developed a lot over the years became I first started it in 2001. Getting it to here from where it was, the film has changed a bit and has taken on a different life of its own. I think I have improved myself in the process, but I'll wait for the audience's judgement on that.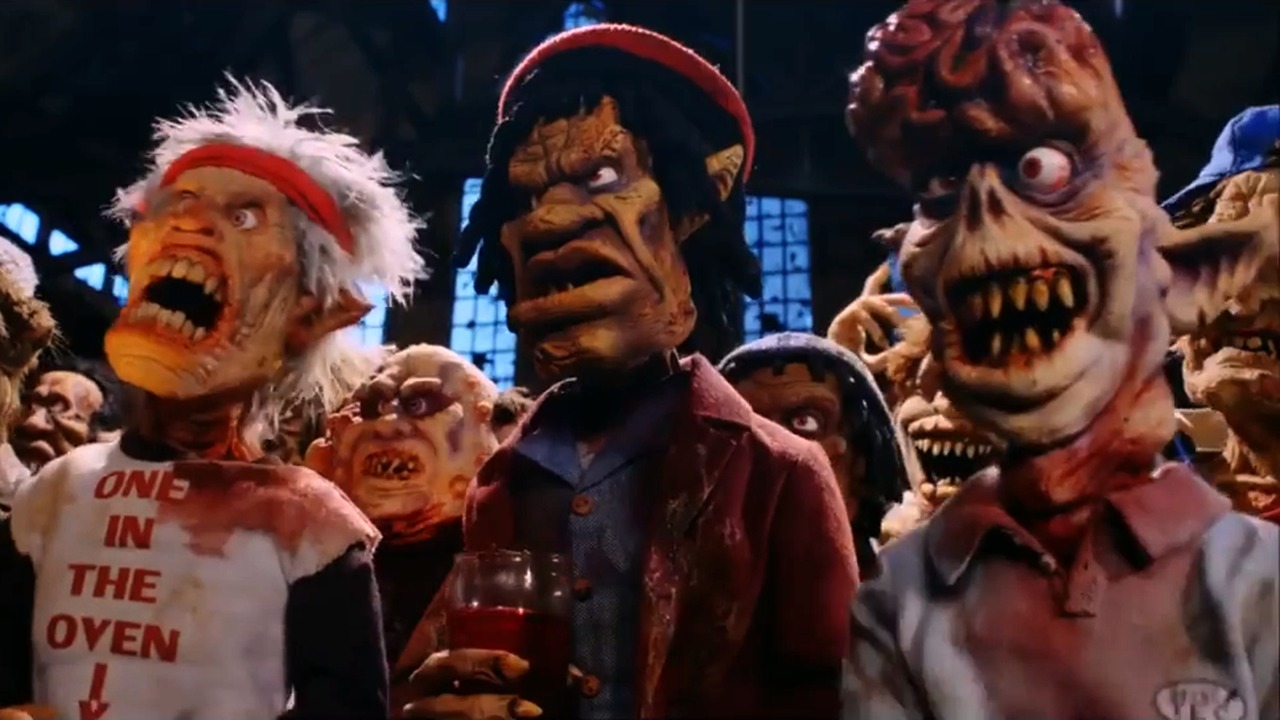 The voice cast has two big names from British comedy – Jennifer Saunders and Paul Whitehouse. How easy was it for you to get them attached? Did you show them a rough cut of the film beforehand to give them a flavour of what you were trying to achieve?
Because we're an independent film, our financing was kind of a cash flow. At the beginning of this project, we were determined to put all the money on the screen. We didn't quite know if and when the money would run out. We didn't have famous names on the film at the start. We went with voice actors and I was doing a number of voices myself, as I did with the earlier shorts.
The decision to bring on Jennifer Saunders and Paul Whitehouse was actually after we'd finished the film. They came in and re-voiced two of the roles. We had the opportunity to reach out to them through a colleague and thought that having them on board really adds to the film. It's not the right way round to do things, but we've done everything a bit different on this project. Jennifer and Paul came in and spent a day or two in the sound booth and hit their lip-sync marks. They did a great job, considering how technical that exercise is.
The Manchester Animation Festival 2018 is on now until this Thursday (15th)