The emblematic Sunshine Cinema closed its box office forever. The New York movie theatre located in the Lower East Side which had screened independent and foreign films, was sold for thirty million dollars to be converted into office space. For over a century since its opening in 1909, Sunshine has been an institution in the neighborhood, first as a church, then as an athletic club, and later as a point of attraction that drew hundreds of attendees a day to its Yiddish and avant-garde performances. The demise of the Sunshine on Houston Street is the latest in a series of closures here in New York, as the movie theaters continue the battle to remain relevant in the streaming era of Netflix, Hulu and Amazon. Sunshine Cinema, run by the Landmark Theaters, has become popular with neighbors and fans for the distinct selection of films, the iconic honey-colored brick façade and stadium seating.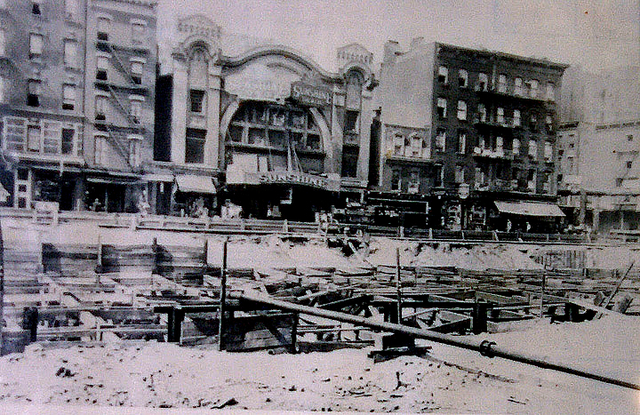 Among the actors and directors who supported the cinema, Tommy Wiseau, director of The Room, also participated in three screenings of his own The Room – relaunched by James Franco's The Disaster Artist – to reiterate the importance of theaters that project indie movies. Often we forget the role that cinema plays in expanding thought, opinions and empathy for fellow humans. Filmmakers do not have a moral obligation to create socially conscious, empathy-inducing films.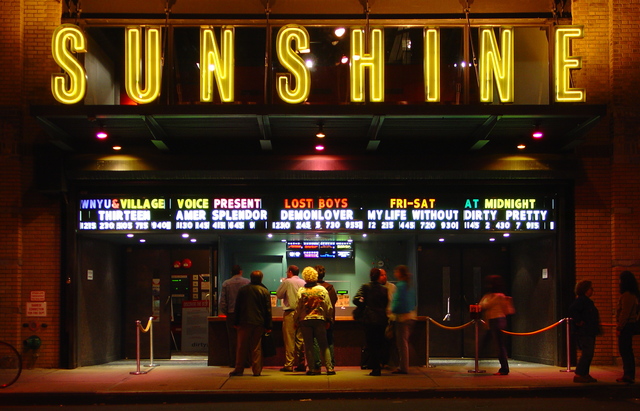 Their only obligation is to entertain; however, the great cinema declares forces you to think differently. In the last years Hollywood has become more interested in creating films that attempt this feat, and praised and financed the indie filmmakers before snubbed cause their films had difficulty generating more than a few thousands dollars at the box office due to their lack of A-list stars, or they have difficulty finding distribution. It is a challenging job, made of risks and gambles.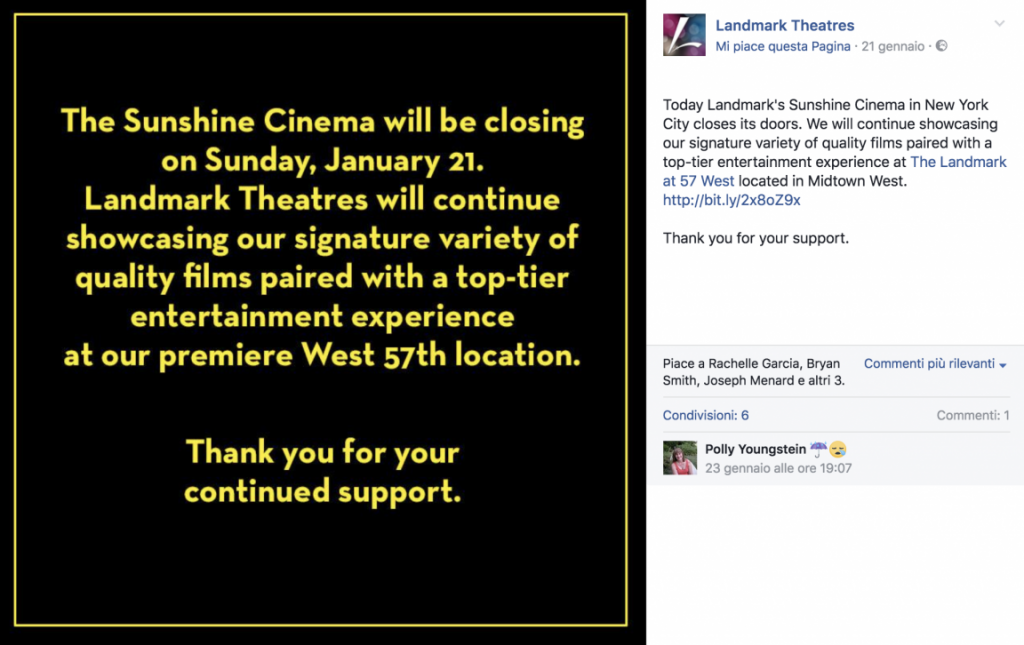 These are the films that show you an homosexual love born and raised secretly in the 80s, as seen in Call Me By Your Name, the stable interracial relationship of The Big Sick in spite of cultural diversities or what a small town goes through when your daughter gets murdered, as depicted in Three Billboards Outside Ebbing, Missouri. The beauty of independent films don't owe anything to anyone other than the audience. Hence it's obvious the Sunshine Cinema will always be in the memory of those viewers who were regularly there as the only way to see a film that tells their story on the big screen.